A True Texas Summer includes a Custom Pool & Outdoor Living Space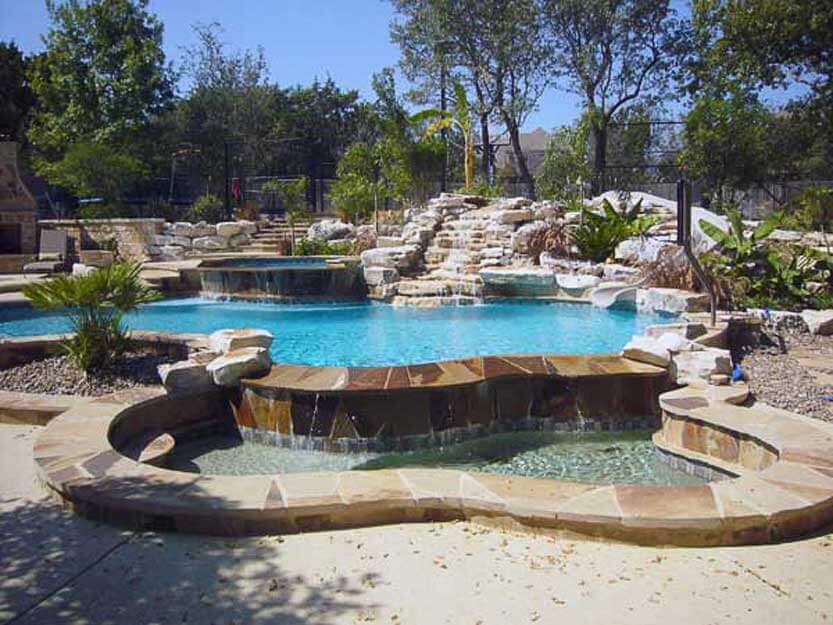 If you are tired of sitting in sweltering heat with nothing but an old lawn chair to relax in, you are not alone. A growing number of Texans are contacting Texas Pools & Patios to build their very own unique custom pool and outdoor living spaces so that they can enjoy our beautiful year 'round weather in comfort and in style.
Why Choose a Custom Pool?
A swimming pool is an investment not only in the beautification of your outdoor living area, but it is an investment in your health and lifestyle. A custom pool can be completely tailored to meet your needs. A stretch for swimming, sunken bar stools, and shallow areas like tanning ledges for lounging and playing with the kids and grand kids can all be incorporated into your pool by an Austin custom pool builder.
Don't Stop with the Pool
Your custom pool will quickly turn into the focal point of your backyard and it will be the hot spot for friends and family to gather and make memories together. But don't stop at just the pool. You can add so many other wonderful features, including:
An outdoor kitchen boasting all of the accessories you need for outdoor grilling and cooking (from a grill and a hot plate to an extensive

kitchen with sinks, a refrigerator, a pizza oven and beer taps)

An outdoor living area (set up a table and chairs beneath a gazebo or pergola, or extend your roof and create more enclosed dining area close to home)

Thoughtfully planned luscious plants and trees

Water features (add waterfalls, sheer descents, bubblers and deck jets to

increase the enticement and relaxation of your backyard)

Fire features (create a cozy space after the sun goes down with a fire bowl, fire pit or a fire place)
Here in the Austin area, we're fortunate enough to have an extended summer season. Make the most of it and call Texas Pools & Patios to explore how you can create the best custom pool and design an outdoor living area that will exceed your expectations! We welcome you to call us today toll free at (877) 409-7665.
ABOUT THE COMPANY
Texas Pools & Patios is an
award-winning Austin and San Antonio pool builder
serving Austin, San Antonio, Central Texas and the surrounding areas. We specialize in
custom designed in ground pools
,
pool renovation
,
outdoor living construction
, pool repair, maintenance and service.
As a family-owned and operated business, we pride ourselves on our
quality construction
, cutting-edge designs,
industry certifications
and awards, and building lasting customer relationships.
To learn more about our pool design and construction projects,
visit our website
subscribe to our blog
,
like us on Facebook
,
view our latest projects on Houzz
or
visit our YouTube channel
.