Top Texas Pool Design Trends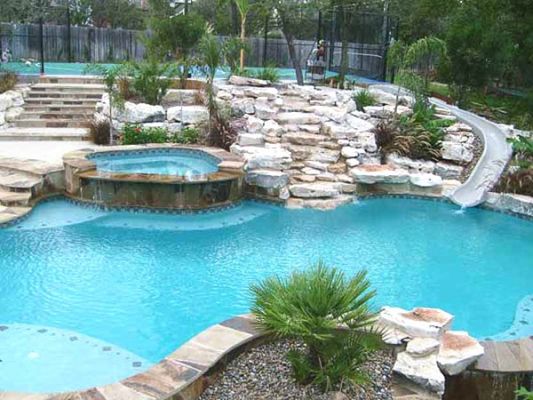 Long-gone are the days of rectangular swimming pools. With the latest trends, pools have been taken to new levels, incorporated new materials and even new technologies. Your pool isn't just a place to swim anymore. These new trends in Texas pool design can transform your custom swimming pool into a space that enhances the aesthetics of your yard and elevates your relaxation.
Infinity Edges
Also known as disappearing edge, infinity edge pools have become a popular choice for those with a taste for modern style. With their seamless sides, these edges create the illusion that there is no end to your pool. Knife edge pools are similar to infinity edges, but they allow for water to overflow on all four sides of the pool, as opposed to just one.
Materials: From Old to New
Moving away from traditional vinyl and concrete, tile and stone materials are among the newer trends in pool design. If you are looking for a flashier style, you could choose to incorporate tile in and around your pool. The tile would reflect beautifully in the Texas sun, giving your outdoor space a glossy and well-polished look. Stone should be used if you are going for a more classic and natural look. These types of pools can be incorporated seamlessly into your landscape, if you so desire.
Natural Pools
Speaking of a more natural look, natural pools and spas are the hottest of trends in pool design, right now. If your yard doesn't have a lot of green space, you can have one of these pools installed to transform your yard into an oasis. Stones, plants and waterfalls are typically used to build these types of pools. The beautiful design of natural pools make it appear as if they are natural springs, and not man-made. 
Fire Pits and Hot Tubs
To create the ultimate hang-out zone in your backyard, you will need more than just a pool. Adding a fire pit and hot tub to your swimming space will give you that extra boost you are looking for. Even in the dead of winter, you can still enjoy your beautiful custom swimming pool by warming up in the hot tub and by the fire. To take it even further, you can add remote control speakers and LED lights to transform your hot tub into a full-blown spa experience. With this hi-tech, aesthetic centerpiece, you won't ever want to go inside.
Levels and Layers
The revolution on flat, one-leveled pools is here. With fire pits and hot tubs, you can get creative with adding multiple layers and levels to your swimming area. Waterfalls and spillovers can be added to further improve your design, creating a beautiful space. And this beauty doesn't have to sacrifice functionality either, as the elements of your pool will still be seamlessly incorporated.
Are you ready to design and build your custom swimming pool? If you are, please visit our website for to view our Texas Pools and Patios photo gallery, and to contact us for a free estimate today.