The Right Steps: Design Tips For Your New Pool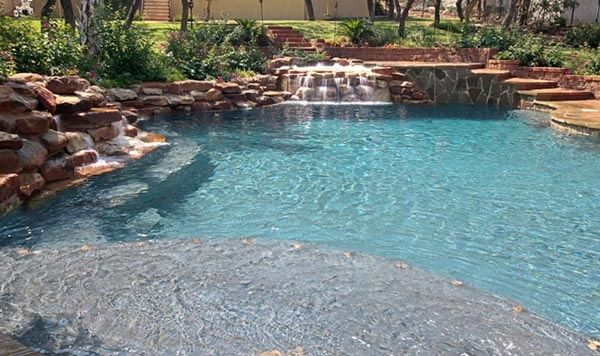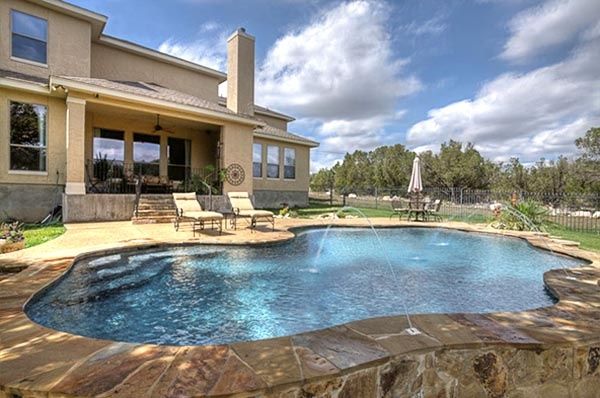 There are lots of things to take into consideration when designing your new pool and spa. One of the most important items yet also one of the most often overlooked is design and placement of pool steps. At Texas Pools and Patios, our experienced swimming pool designers can make a well-informed recommendation, but your family may have certain lifestyle needs that dictate your design options. Be sure to think over any such needs that affect your pool steps and discuss them with your design professional.
Assess Who Will Be Using the Pool
Are any members of the household elderly or physically disabled? Pool steps of shorter height may be more easily managed for these people. Consider nestling steps against a raised spa or other raised feature that would provide a handhold for added stability while navigating stairs. Also, you can reduce the likelihood of falls by installing contrasting trim tile to lend those sometimes invisible step edges visual definition.
Standard step height is 12 inches. However, most people are accustomed to a much lower step, leading many industry experts to recommend heights between 8 and 10 inches. Remember that water's buoyancy can cause our movements to be less precise, so pool steps should be wide enough to compensate- at least 10 inches from front to back, and 12 inches for those already unsteady on their feet.
Of course, the shorter the step, the more of them are needed, taking up more valuable pool real estate. For this reason, you may wish to bump pool steps out of the main body of the pool, or locate them in the shallowest area of the pool- you need less steps in a 3 ½ foot area than you would in a 5 foot.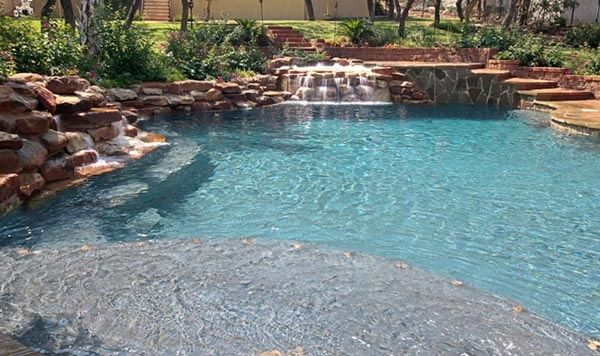 Define How the Pool Will Be Used
How do you expect to use your pool most often? Families with small children or individuals who enjoy sunbathing for example may wish to incorporate a large tan ledge as the first step into the pool. For others wishing to engage in water sports such as volleyball or basketball, a tanning ledge may be an unwelcome waste of valuable space.
Consider also the social potential of pool steps. Many pool owners find that steps are frequently used as seating and lounging areas, so placing them near underwater benches or even out-of-pool seating areas or outdoor kitchens may provide convenient conversational groupings.
In most cases, you should avoid locating pool steps at the end of the longest stretches of pool water. These are the most accommodating swim lanes, and lap swimmers typically face difficulty performing turns on steps. Ultimately though, it is up to each pool owner to decide whether form or function is the most important element of their pool.
In conclusion, for a pool to be most enjoyable, it has got to be convenient. Steps may be most convenient when located near backyard entry points such as back doors or gates. Most people quickly tire of having to walk all the way around a pool to access the steps.
With benefit of extensive experience on our side, Texas Pools and Patios is uniquely qualified to design the backyard of your dreams. For a beautiful pool and spa that perfectly blends beauty, luxury and usefulness, give us a call today!