Swim-Up Bars and Dining for Your Texas Pool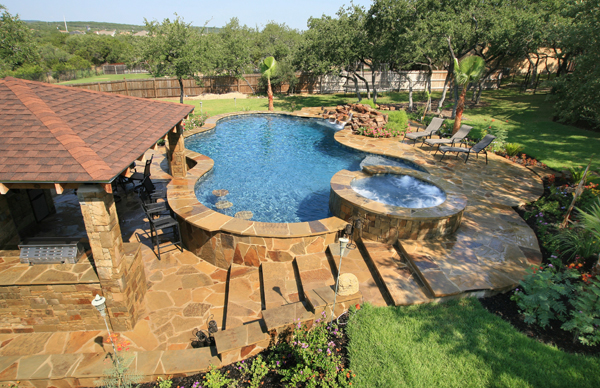 No longer a luxury found only at high-end hotels and resorts, swim-up bars and dining areas are popping up in private pools everywhere!
With the growing popularity of outdoor kitchens and bars, access from the pool just makes sense. You never need to leave the water to enjoy a tasty meal or refresh with a cold drink. This not only increases the usefulness of your backyard space but also extends your enjoyment of it year round.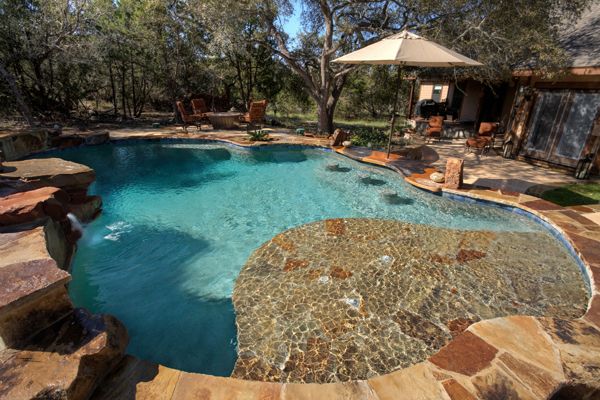 There are a couple different ways to approach the design of in-water dining zones.  The first is to incorporate a series of free-standing stools built into the gunite structure of the pool.  They're usually arranged side by side and come to just within around 1.5 feet from the water surface. Placed along the wall of the pool or outdoor kitchen counter, swimmers never have to leave the cool comfort of the water to enjoy a meal or beverage.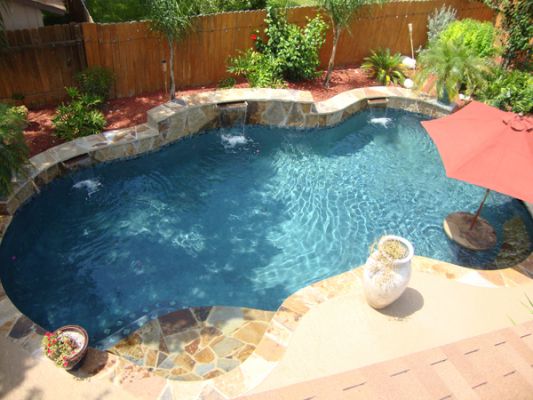 Another design idea is to have both the table and seating contained within the pool.  You'll typically find these in a designated area, sometimes like a little cove, that consists of submerged benches or pillars surrounding a built-in table that rises just above the water level of the pool.  Consider adding an umbrella to the table for some poolside dining shade.  Since the table and seating are within easy reach of the pool wall, passing food and drinks from the deck is a breeze.
With these convenient swim-up bars and dining options, you and your guests can stay cool, get all water wrinkly and thoroughly enjoy the time in your personal slice of backyard luxury.
It's important to choose a pool contractor who will properly engineer and create your dream design based on your backyard environment, terrain and water wishes. Texas Pools and Patios would love to make your dreams a reality.  Contact us today for a free consultation!