Stunning Spas to Enhance Your Austin Pool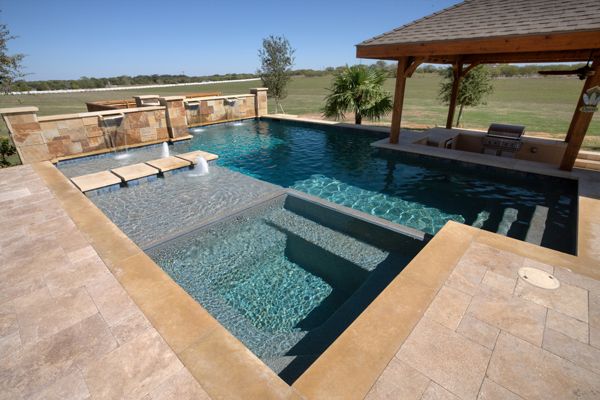 Spas are renowned for their relaxation and therapeutic benefits, and are a necessary addition to your Texas pool. Making use of a spa has been shown to ease joint and muscle pain, reduce arthritic inflammation, and even alleviate insomnia! A great place to de-stress and unwind after a long day, spas are also the perfect way to luxuriate in the water through the fall and winter months, extending the use and enjoyment of your pool area year-round.
In addition, a well designed spa provides a lovely visual enhancement to your pool. Spas can be built in a variety of shapes and sizes, and designs with spillways or infinity edges function as eye-catching and elegant water features. They can be designed in-ground or raised, and raised spas can be covered with tile, stone, or even iridescent glass tile to achieve an array of different style effects. In fact, spas are often the most statement-making part of an overall pool design, giving the customer a wonderful opportunity to express their own unique personality and taste.
At Texas Pools and Patios, our award-winning designers excel at translating clients' aesthetic styles into tangible works of art that can be enjoyed for years to come. Following are a few of our favorite spas. We hope you find them inspiring!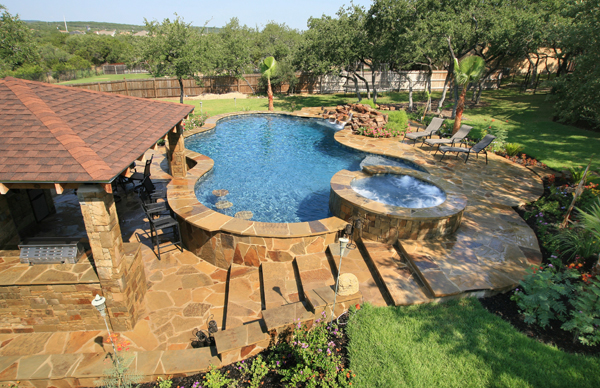 Round Spas
First and perhaps the most common is the round raised spa. Clients love them for their ability to seamlessly blend into the poolscape in a way that is easy to navigate thanks to the lack of corners. Round spas can be set into virtually any shape of pool from geometric to freeform lagoon styles, and always look just right without seeming to take up too much space. Another benefit of the raised spa in any shape is that its walls do double duty as extra seating while entertaining!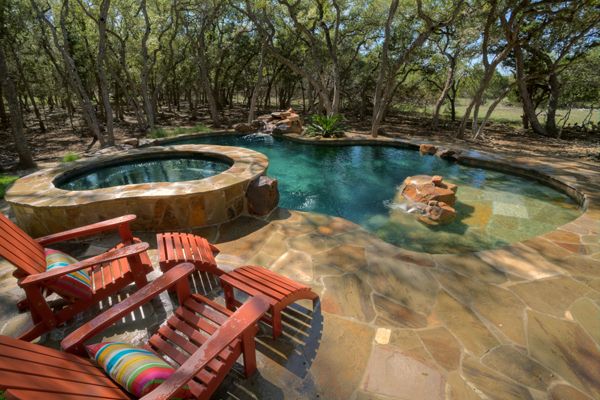 Freeform Spas
Second, and similar to round is a freeform spa. With rounded, irregular edges and offering many of the benefits of the round, freeform shaped spas are evocative of natural hot springs and feel harmonious in a natural setting.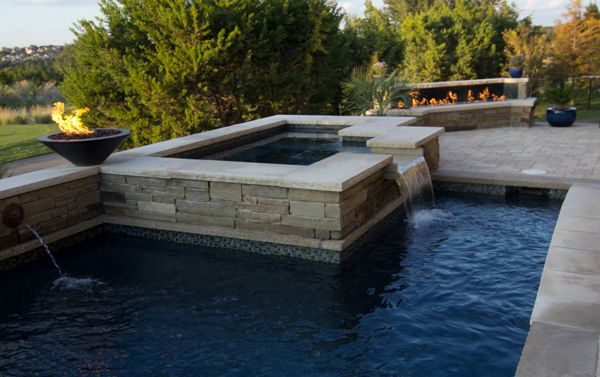 Geometric Spas
Square, rectangular or other geometric spas are the perfect, graphic elements to enhance a geometric pool. The emphasis on straight lines and precise angles creates a clean feel that works equally well for a minimalist, Zen aesthetic or a sleek, modern look. We love the one above accented with edgy and elegant fire features! Equally stunning raised or flush, a square spa is a good option for those seeking maximum square footage. Check out this unique octagonal spa- it's an instant showpiece!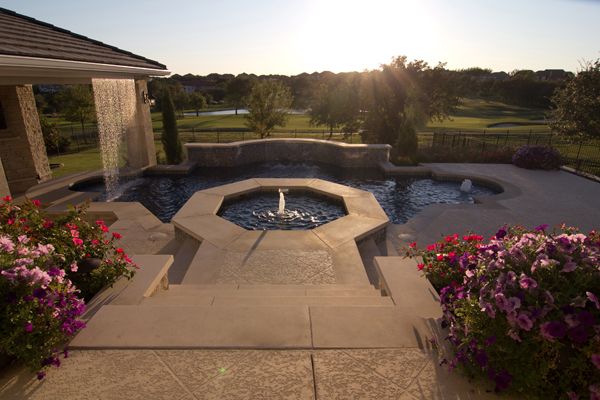 Now is the perfect time to build the beautiful and luxurious custom pool and spa you have always dreamed of. Browse through our extensive photo and video galleries, make note of those that inspire you, and call Texas Pools and Patios for your design consultation today!