Skincare Tips for Summer by the Pool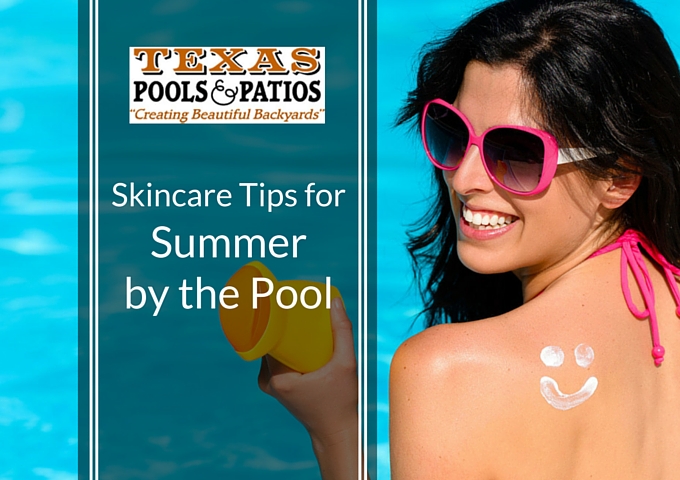 As the days get longer and the afternoons get hotter here in Texas, you've perhaps already started taking advantage of your Austin backyard pool. While lounging by the pool is a favorite summer pastime for many, it's important to always keep your health and well being in mind, particularly when it comes to your skin. Water surfaces are highly reflective, so your skin is even more at risk of sun damage poolside than other places. Here are some of the best tips to keep your skin healthy and burn-free while you enjoy days next to your Austin backyard pool.
Always Wear Sunscreen
This may be a no-brainer by now, but it's worth repeating: always wear sunscreen for any outdoor summer activity, whether or not it's by your Austin backyard pool. In fact, it's best to put it on whenever you leave the house, especially in summer—it's Texas, after all!
Treat Sunburn with Care
Of course, even if you do apply sunscreen, sometimes a burn just happens. If that's the case, try applying an ice-cold compress to the burned area to try and reduce the pain. Hydrocortisone cream can also help with relief. If the pain from your burn is significant, though, you may want to consult your doctor, who may prescribe a wound healer.
Proper Lip Care
Many of us love the feeling of applying menthol or camphor-based lip balms, but these will actually dry your lips out over time, causing you to feel like you need to keep applying. Find a balm with something that actually soothes, like Shea butter or beeswax—and definitely pick a balm with SPF!
Contact Us for Your Austin Backyard Pool Care and Fun!
At Texas Pools and Patios, we're proud to offer unique and beautiful backyard spaces for your Austin or San Antonio home.
Contact us
today to start building the backyard you've been dreaming of!
ABOUT THE COMPANY
Texas Pools & Patios is an award-winning Austin & San Antonio pool builder serving Austin, San Antonio, Central Texas and surrounding areas. We specialize in custom designed in ground pools, pool renovation, outdoor living construction, pool repair, maintenance and service. As a family owned and operated business, we pride ourselves on our quality construction, cutting-edge designs, industry certifications & awards and building lasting customer relationships.
To learn more about our pool design and construction projects, visit our website, subscribe to our blog, like us on Facebook, view our latest projects on Houzz or visit our YouTube channel.