Should You Remodel Your Pool?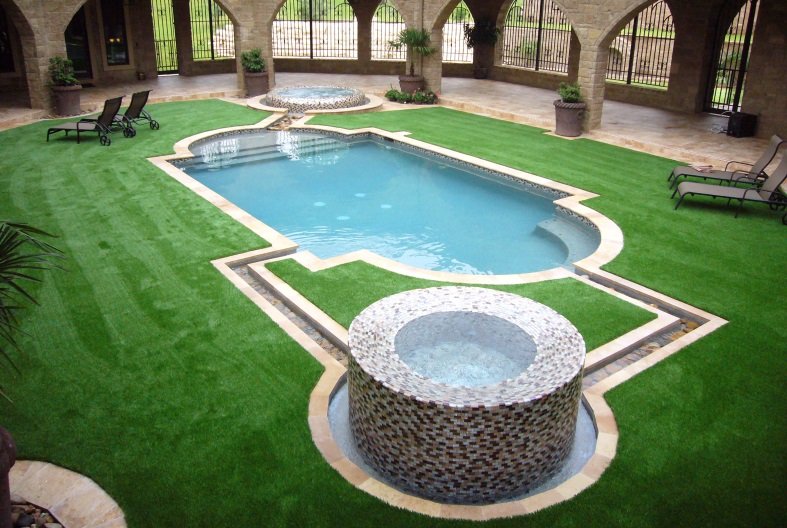 Pool Remodeling Services Austin, San Antonio & More
Often times, people look at their backyard pool and think, "This is it. It is always going to look like this." But that's simply not the case. Your pool
can
be
remodeled or renovated
to reflect current trends while operating at a higher efficiency. There's no reason for you to accept a mediocre pool when a reputable pool builder can turn your outdated pool into your dream backyard.
So if you're thinking that it may be time for a makeover, here are some of the top reasons why homeowners take on pool remodeling projects, and the benefits they will reap once they do.
When Safety Becomes an Issue
Your pool area should be a safe haven for friends and family to enjoy. Cracked concrete, damaged fiberglass and chipped tile are all common safety issues that can potentially lead to a disastrous situation. Someone can become physically injured by cracks in the concrete decking or by broken steps and ladders in the pool. These are necessary upgrades that should be fixed as soon as possible. Cracks or breaks in the foundation of your pool and the surrounding areas are another kind of issue. Often times, these crevices are the perfect place to harbor algae and other nasty bacteria. If not addressed in a timely manner, a minor crack can turn into major problem that was completely avoidable to begin with.
Benefit
: Not only will you be keeping you, your family and visitors safe, but you'll also be protecting yourself from any potential lawsuits that could arise should someone become injured on your property. You'll also save a hefty penny in the long run by fixing minor cracks in the foundation of your pool
before
they become major issues.
When the Pool's Outdated
Let's face it, there are some really unattractive and outdated pools out there. Your backyard may be absolutely stunning, but that boring rectangular pool with damaged turquoise tile from 1989 is actually taking away from the appeal of your lovely backyard living space, not adding to it. Fortunately, the appearance of your pool can be easily updated to reflect today's trends while staying within budget. There are so many building materials to choose from today that will surely give your backyard the facelift it needs to stand out once more.
Benefit
:
Updating your pool with fresher materials and gorgeous add-ons, like fire and water features, not only increase your own enjoyment, but also the value of your home. If you're planning on selling your home any time soon, having a fantastic looking backyard oasis can help move your property quickly off the market.
When Energy Efficiency is Poor
Older pools lack a number of technological advancements and features that newer pools have. Many of today's new pools are outfitted with automated pool systems that include pumps, heaters, filtration systems, and cleaning systems. Not only does an automated pool allow you to remotely control your pool's operating system, perfect for the pool owner on the go, it also allows you to save a good chunk of change on your utility bills.
Today's
e

nergy-efficient equipment
allows your pool to operate more efficiently and effectively than ever before, leaving you with cleaner, smoother water to enjoy and more money in your wallet.
Benefit
:
While you may not need to completely remodel your pool to take advantage of these features, it's a good idea to begin trading in your own pumps and filters for more energy-efficient ones to save both the environment and your money. Many pools are able to be retrofitted to include the newer equipment without changing the aesthetics of your poolscape.
ABOUT THE COMPANY
Texas Pools & Patios is an
award-winning Austin and San Antonio pool builder
serving Austin, San Antonio, Central Texas and the surrounding areas. We specialize in
custom designed in ground pools
,
pool renovation
,
outdoor living construction
, pool repair, maintenance and service.
As a family-owned and operated business, we pride ourselves on our
quality construction
, cutting-edge designs,
industry certifications
and awards, and building lasting customer relationships.
To learn more about our pool design and construction projects,
visit our website
subscribe to our blog
,
like us on Facebook
,
view our latest projects on Houzz
or
visit our YouTube channel