Safety Tips for the Beginning of the Pool Season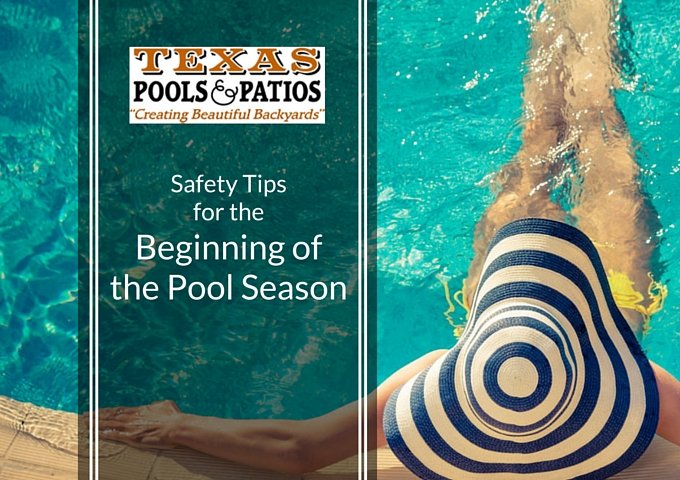 With summertime just around the corner, many in Austin and San Antonio are preparing to spend their summer days relaxing by the pool. Although this is a great way to have fun and stay cool during the hotter seasons, it is still important to remember and abide by safety precautions when you are near the pool. You can still have fun while remaining safe this summer, so in honor of National Water Safety month this coming May, here are a few pool safety tips to keep in mind when by the pool this season.
Prioritize Water Safety
Water safety is important not only for you, but your loved ones as well—including your pets. Pools are meant for fun and relaxation, and when you keep your safety first, the fun will soon follow. Keep in mind these pool safety tips this summer:
You should always swim in designated areas supervised by lifeguards.
Do not swim alone or allow others to swim alone. Always use the buddy system even when swimming in public places.
Make sure you and your loved ones know how to swim properly.
Do not leave children unsupervised by water.
Have inexperienced swimmers and young children wear life jackets when around water.
Wear a life jacket when you go boating, even if you are a good swimmer.
Be cautious around water even if you do not plan to swim.
Avoid alcohol use and consumption when around water.
Prevent Incidents and Accidents
The best way to maintain water safety is through preventative methods. Some options to consider for water safety are:
Install barriers around your home pool and hot tub. Also, incorporate pool covers and alarms for added security, especially for young children and pets.
Make sure pool enclosures surround the entire pool and are at least four feet high. Be sure there are no gaps or holes in or around the enclosure. Make sure all latches are completely secure, and that there are no tables or other objects near the enclosure that can be used to climb over the enclosure.
Keep toys and inflatables that are not in use away from and out of the pool. These objects can attract young children and pets towards the pool.
Maintain constant supervision by actively monitoring anyone, especially children, when in and around the pool. Even if lifeguards are present, you should still remain with your children at all times when at the pool.
Stay within arm's reach of young children at the pool and avoid any distractions that may divert your attention away from your child.
When the Unexpected Happens
Unfortunately, incidents and accidents around water will sometimes happen, regardless of how well one knows pool safety tips. If the unexpected does occur, another aspect of water safety is knowing what to do and how to properly handle these situations in order to prevent further injury, or worse. In case of an emergency, remember the following:
You should know how to and when to call 9-1-1 or any other local emergency number when needed.
For your home pool or hot tub, always have appropriate safety equipment around, such as a cellphone, first aid kit, life jacket, and reaching and throwing equipment.
Enroll into CPR/AED courses for further instruction on how to prevent and respond to urgent situations.
Contact Texas Pools & Patios for Pool Safety Tips and More!
Although rules and tips may seem like the exact opposite of fun, when it comes to water safety, these rules and tips are the best way to have fun and stay cool in that Texas heat this summer. Have a summer to remember for the right reasons by keeping yourself, your family and your pets safe around the pool this summer. For Austin and San Antonio residents, find out how
Texas Pools & Patios
can help you have fun and stay safe this summer with the perfect pool for you and your family.
ABOUT THE COMPANY
Texas Pools & Patios is an award-winning Austin & San Antonio pool builder serving Austin, San Antonio, Central Texas and surrounding areas. We specialize in custom designed in ground pools, pool renovation, outdoor living construction, pool repair, maintenance and service. As a family owned and operated business, we pride ourselves on our quality construction, cutting-edge designs, industry certifications & awards and building lasting customer relationships.
To learn more about our pool design and construction projects, visit our website, subscribe to our blog, like us on Facebook, view our latest projects on Houzz or visit our YouTube channel.