Reasons In-Ground Spas Make the Best Holiday Gift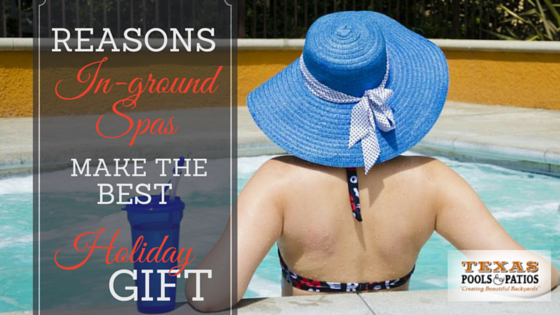 You are determined to get your loved one the best holiday gift this year, as you are every year. There is a minor issue, however. All the years before were filled with the most amazing gift ideas—how could you outdo yourself yet again? Have you considered the gift of a custom in-ground spa? These beautiful, innovative creations are designed to wow clients and provide them with all of the great benefits of having a spa right in their backyard.
This is a unique gift idea that your loved will certainly enjoy for many years to come. Good pool builders who understand the challenges of the Austin, Texas landscape, such as the second generation pool builders at Texas Pools and Patios, will help you to design the perfect spa for any property. Here are a few reasons why in-ground spas in Austin make the best holiday gift.
Works of Art
In-ground spas add so much beauty to any yard. They can be designed to match any taste, no matter if your loved one would prefer a contemporary or traditional design. They can also be made to match any existing scheme. Incorporating a spa into a backyard that already has a pool or other features is an excellent idea—it will only further enhance the space. Pool builders put forth a great amount of effort to present the client with a product that is a true, pristine work of art that easily becomes a main feature of the yard.
Great for Entertaining
Your loved one will thoroughly enjoy entertaining in their new spa. They will be able to have a few guests, yourself included no doubt, to enjoy an evening under the big Texas sky in the warm waters of their very own spa. Pair this setting with a bottle of wine and you have the perfect night. They can even incorporate their spa into a space that includes a pool, outdoor kitchen and entertainment area, to offer guests a variety of options to utilize while enjoying the outdoor space.
Health Benefits
An in-ground spa is beautiful and fun to use, of course, but it is also very beneficial for health and wellbeing. This spa could help to greatly decrease the stress and anxiety that your loved one may experience. This warm waters and soothing jets offer a relaxing escape from day to day problems. In-ground spas also promote good circulation, as the blood vessels of the body dilate when the person is submerged in warm water, bringing vital oxygen and nutrients to all areas. This will help your loved one to heal and rejuvenate from any injuries or illnesses that they might have. If this spa is for a person who experiences muscle or joint pain, the spa will be a great way to give them a bit of relief.
Purchase an In-Ground Spa Today
Now is the time to purchase an in-ground spa that you will give as a gift this holiday season. Your only problem should be obviously clear—how will you ever top this amazing gift yet again next year? If you have additional questions, visit our services page or contact a representative with Texas Pools and Patios today.