Most Popular Design Features for Luxury Pools in San Antonio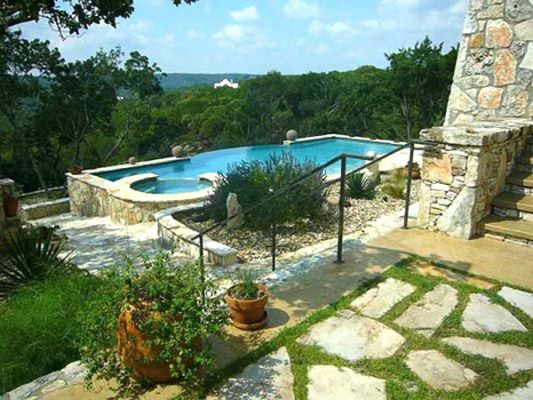 What transforms a regular pool into a luxury pool relies heavily on the design features and elements that a homeowner chooses. While there are a number of different elements for pool owners to choose from, these 5 features are a sure way to build a pool that exudes comfort, extravagance, and splendor.
1. Infinity or Zero Edge Designs
The luxury backyard pools of today almost always feature the infinity edge. This feature, whether incorporated into your pool or spa, gives bathers the sense of being immersed in an endless stretch of water. Thanks to the clever dropped edge design, these pools seamlessly blend the glass-like waters of these luxury pools into your surroundings.
2. Tanning Ledges
Whether you choose to lounge in a chair or relax in the cool, refreshing waters of your pool, a tanning ledge is an ideal feature to add to any pool. As an added benefit, a tanning ledge can also act as a "splash and play" area for younger children or those who are weary of entering the deeper waters of your pool.
3. Sheet Waterfalls
Water features of any kind help bring a sense of opulence to luxury backyard pools, but the favorite choice amongst pool owners these days is the sheet waterfall. Unlike the tumbling and bubbling traditional waterfall, sheet waterfalls are incredibly sheer and have clean lines, giving your pool a more modern and updated feel.
4. In-Pool Barstools
If you entertain on a regular basis, then in-pool barstools are a must-have luxury pool item. With these barstools installed, your guests will be able to swim right on up to the deck or patio and request their favorite beverage from the cool, comforting waters of your pool.
5. Glass Tiles
Durable and beautiful, glass tiles are becoming the "it" item of luxury pools. These tiles catch and reflect the sun's rays in a way that creates an exciting visual display.