Pool Ideas for 2015 in Austin,Texas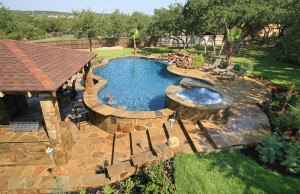 Whether you're looking at your options for building custom swimming pools or are considering remodeling your existing pool, these 5 pool ideas are going to be some of the hottest trends for poolscapes this year:
* Modern Water Features
Most custom pool ideas include at least one or two water features, with the most popular being rock waterfalls and deck jets.  This year, expect to see some unique twists and takes on classic ideas, such as modern sheer sheet fountains with adjustable height and flow settings.
* Extra Lights
With new lighting options continuing to crop up, you can expect to see a lot of different lighting plans being incorporated into pool ideas this year.  Add or change your LED bulbs to drum up some drama and add functionality, and build fiber optics into your custom swimming pool ideas to light up your poolscape.
* More Fire Features
Including fire features into custom pool ideas is nothing new, but what's going to be trending this year are going to be smaller fire features surrounding the edges of your pool, or features being incorporated into decorative wall settings.  Consider volcanic fire pits for your tropical lagoon, or cauldrons and fire bowls for more modern designs.
* Glass Tiling
Aquatic and iridescent, glass tiles have been increasing in popularity in the pool industry for a while now.  Many luxury custom pools feature glass tiling throughout, but homeowners can still enjoy the same effect by installing a band of glass tile along the tile line.
* Perimeter Overflows
There will always be a special place for infinity pool designs, but the pools of 2015 are going to include more perimeter or "knife edge" pools.  Unlike the infinity pool which has water cascading down one side of the pool, a perimeter overflow allows water to flow over all sides.