Pool Designs for your Custom Pool in San Antonio
Some may be closing up their pools for the winter, but that doesn't mean that it should be forgotten. You've likely spent the summer dreaming and wishing for new additions to your pool, and fall is the best time for those renovations and remodels. Whether it's an infinity pool that you've been wanting or new and exciting water or fire feature, we have compiled a list of some of the hottest pool designs that you can incorporate into almost any backyard.
Stacked Stone Walls or Ledges with Scuppers and Fire Features
A stacked stone wall or ledge with scuppers is a great way to enhance your view and add both audio and visual interest to your backyard. The wall or ledge can be as high or as long as you want, and when coupled with planters (or, if you're feeling adventurous, blazing fire bowls), your outdoor living space will immediately be transformed into an exciting outdoor destination.
Stone Walkways and Wooden Bridges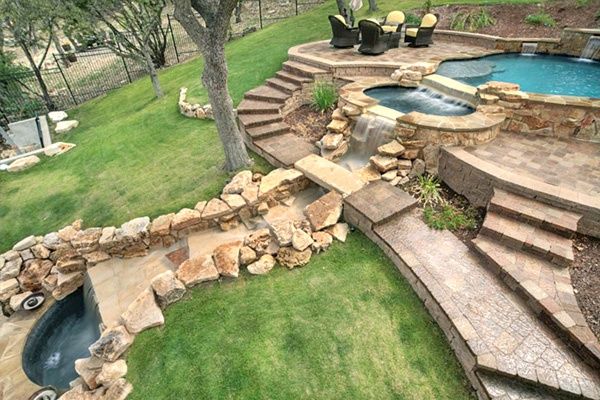 If adding a new dynamic to your backyard and pool area is what you seek, consider adding a walkway or bridge. A walkway of any type will create dimension and add functionality to conventional and natural swimming pools. Large stone or wooden "lily pad" walkways are incredibly unique and can be designed to blend seamlessly into your existing decking, while bridges will always be a classic pick for pool owners.
Raised Infinity Pool with Lower Well and Stream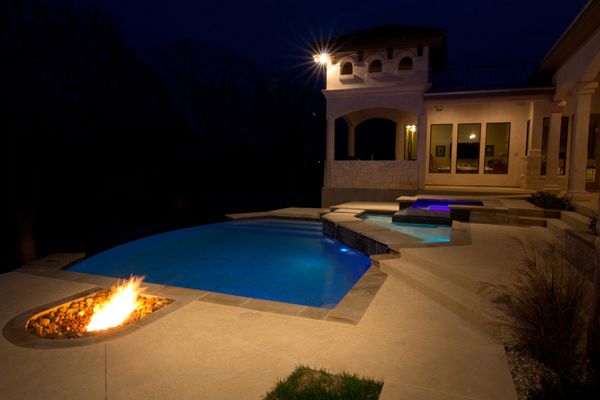 The infinity pool can work in any backyard, from those that provide majestic views to those that face the home. By having an infinity pool that's raised, pool owners can use the design of the infinity pool to their advantage and build a lower well below. Some creative landscape artists have even created streams and waterways leading from the well, all which eventually recycle the water back into your infinity pool.