Which Pool Design Shape Is Best for Your Lifestyle?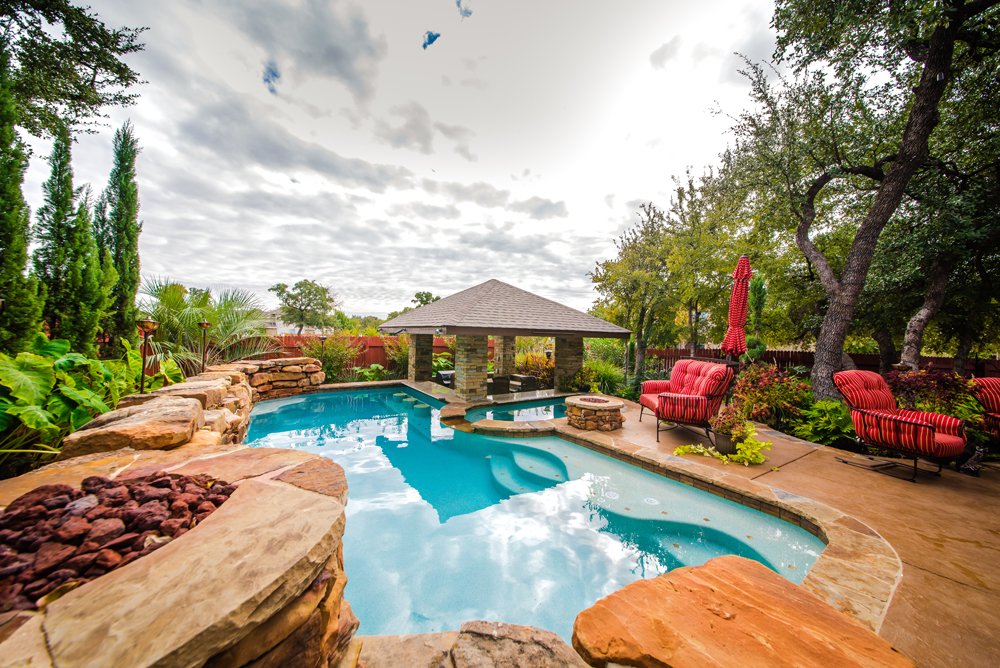 With so many pool shapes & styles to choose from; natural/freeform, contemporary/geometric, vanishing edge, cocktail or lap pool, homeowners need to consider how the pool will be used to determine the perfect pool shape for their backyard. To help you decide, we have listed some of the most popular uses of your swimming pool to consider when selecting the perfect pool shape.
The Family Pool
A family pool should be fun, but safe. Keep in mind that you may have this pool in your backyard from the time your children are little to when they are teens to adulthood. The pool you choose should have multiple depths to accommodate your growing brood, so a beach entry pool or a pool that offers some shallow space is a wise idea. A family pool can be geometric or natural in shape, but should include fun water features such as a pool slide (rock or pre-form), deck jets, bubblers and LED lights.
The Entertaining Pool
Those who like to entertain in their backyard will have the perfect centerpiece when they have a swimming pool. Any pool shape can work, and each have their advantages. Geometric pools add a touch of elegance and you don't even have to swim in them to be enjoyed. Freeform pools can add a tropical flair to any backyard and your guests will have a great time floating around.
No matter which shape you choose, adding water features is key to making your pool an entertaining pool. Here are some examples of popular water features for an entertaining pool:
LED lights – light up the area and create a dramatic effect.

Fire & Water Bowls – Perfect for an evening event. The sound of water is intoxicating and the fire

flames create a beautiful and dramatic ambience.

Deck Jets

– Graceful streams of water that arch into the pool or spa from the pool deck, walls, or surrounding landscape. When accompanied by colored LED lights, they really amp up the drama at night and can even be changed to suit any mood.

Swim-up Bar & Cocktail Tables – Guests never have to leave the pool with these nifty water features. No better way to relax and enjoy the company of friends than around the bar or table.
The Fitness Pool
Rectangular pools are indisputably the best option for anyone who's major reason for getting a pool is for fitness purposes. If your goal is to swim laps, consider a rectangular or geometric pool. There is a style of pool called a lap pool, that is built precisely for this purpose. If you plan on doing water aerobics, geometric pools work best and it is best if the pool has the same depth throughout the pool and 4 to 4 ½ feet maximum. If you plan on doing any diving, then consider the fact that the deep end of the pool must be, at a minimum, 8.5 feet deep for a low diving board, and progressively deeper depending on the height of the board.
ABOUT THE COMPANY
Texas Pools & Patios is an
award-winning Austin and San Antonio pool builder
serving Austin, San Antonio, Central Texas and the surrounding areas. We specialize in
custom designed in ground pools
,
pool renovation
,
outdoor living construction
, pool repair, maintenance and service.
As a family-owned and operated business, we pride ourselves on our
quality construction
, cutting-edge designs,
industry certifications
and awards, and building lasting customer relationships.
To learn more about our pool design and construction projects,
visit our website
subscribe to our blog
,
like us on Facebook
,
view our latest projects on Houzz
or
visit our YouTube channel
.