Pool Decking Ideas for Your Austin Backyard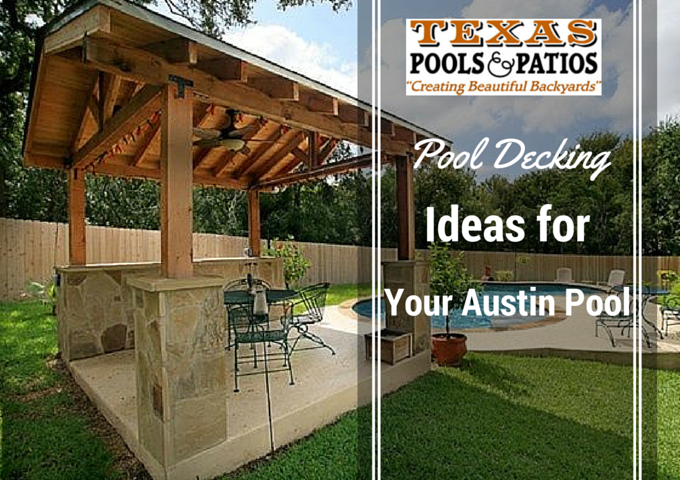 It may be only spring in Austin right now, but it'll be warm again before you know it. In Austin, the best way to beat the heat is with a nice dip in the pool, but there's a lot more to your backyard pool than just being a spot to cool down. You want it to be the centerpiece of your backyard and the go-to for a summer block party, which means you need stylish and functional decking to go along with your pool area. Read on to discover pool decking ideas for your Austin backyard.
Combine Wood and Stone
First and foremost, you want your pool decking to look warm and inviting. It should feel like the go-to place to host friends, family and neighbors. A great pool decking idea is to combine wood and stone for a very secure, cozy feel. The combination of wood and stone conveys a natural feeling that people are instinctively drawn to and will make your pool the premier hang out spot of your Austin neighborhood.
Construct a Fire Pit
One of the only drawbacks of having a pool in your Austin backyard is that you can only use it for a few months out of the year. However, when you incorporate a fire pit into your pool decking, your pool area can be used for social occasions throughout the year. A centrally located fire pit means that no matter how cold it may be outside, the deck around your pool will always be a neighborhood social destination, not to mention the fact that it provides a convenient warmup spot for swimming days when it's a little bit chilly getting out of the pool.
Put in a Two-Tier Deck
As we discussed with the fire pit, being able to use your pool decking year-round is of the utmost importance when planning it out. This is why one of the best pool decking ideas is a two-tier deck. By building a multi-level deck, you'll still be able to enjoy outdoor seating when it is too cold outside to use your pool. With a two-tier deck, you'll be able to enjoy those mild Austin nights year-round.
Sun and Shade
Let's face it: you want your pool area to mostly be suited for the warm months—hanging out for hours by the water and taking the occasional swim to cool off. But you don't want your decking area to be entirely exposed to the summer sun, which is why a fantastic pool decking idea is to have it half in the sun and half in the shade. Whether you want to catch some rays, or just enjoy the warmth of a day, half-shaded pool decking makes sure everyone is happy.
Ready to Serve You
An important part of installing a pool in your Austin backyard is finding the right pool decking idea that fits your needs. You want a decking that both complements your pool during the warm months but is still useful in the off-season. Luckily, there a number of great solutions to keep your pool deck area enjoyable year-round. Texas Pools and Patios is your one-stop solution for your pool decking needs in Austin. Whatever you need to make your pool area look and work its best, we're ready to provide.
ABOUT THE COMPANY
Texas Pools & Patios is an award-winning Austin & San Antonio pool builder serving Austin, San Antonio, Central Texas and surrounding areas. We specialize in custom designed in ground pools, pool renovation, outdoor living construction, pool repair, maintenance and service. As a family owned and operated business, we pride ourselves on our quality construction, cutting-edge designs, industry certifications & awards and building lasting customer relationships.
To learn more about our pool design and construction projects, visit our website, subscribe to our blog, like us on Facebook, view our latest projects on Houzz or visit our YouTube channel.