5 Outdoor Kitchen Must Haves For Every Backyard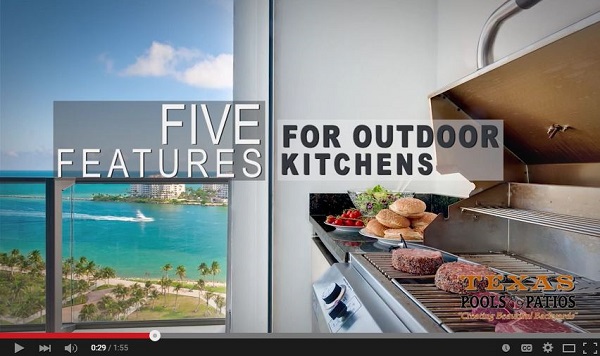 For every social and family gathering, your outdoor kitchen is likely to be the center of the activities. It is in fact considered an extension of your home. Gone are the days of limiting your outdoor cooking with just grilling hamburgers and steaks. With innovation and creativity, your outdoor kitchen can now be equipped with full-kitchen functionality and maximize your outdoor living experience.
Finding the right appliances for your outdoor kitchen can be overwhelming with so many options to choose from. To help you get through this dilemma, we have created a video and compiled five of the best features to include in your new outdoor kitchen. Watch the video on outdoor kitchen tips here.
Built-in Grill
Your outdoor kitchen won't be complete without a built-in grill. In fact, for those who don't plan to have a fully equipped outdoor kitchen, it is still valuable to have a grill in the backyard.
There are many type of grills available in the market today. Your options range from the type of fuels to be used such as gas, charcoal and pellet or based on standard materials, such as stainless steel, ceramic and cast iron. Whatever your preferences are, there is something that will surely fit your budget.
Spacious Sink
If you want a fully functional outdoor kitchen, you must have a sink in your backyard to help you prepare meals easier. It's best to choose a spacious sink to give more room for movement. Ideally, you need to choose one that is deep and durable for longer use.
Quality Cooking Tools
Equip your outdoor kitchen with a tool kit that includes a grill brush, strong pair of tongs, a thermometer and, of course, a pair of gloves to keep your hands safe. Since you will be grilling most of the time, it is best to have a kitchen tool kit that will help you prepare outdoor meals.
Plenty of Counter Space
Preparing food before and after cooking requires a good amount of counter space. Choose a material that's durable and resistant to fading, such as granite, stainless steel, concrete or ceramic tile.
Built-in Refrigerator
Of course, you need storage for your beverages, meats and other food items. You don't have to buy a big one, a small fridge will do.
By having these features in your outdoor kitchen, you are sure to cook a fabulous meal, all while entertaining your family and friends outdoors.
To learn more about how you can get started on creating the outdoor kitchen of your dreams, contact your Austin and San Antonio Area outdoor living experts today. We are also serving Central Texas and Georgetown.