Must-Have Features to Update Your Texas Outdoor Living Space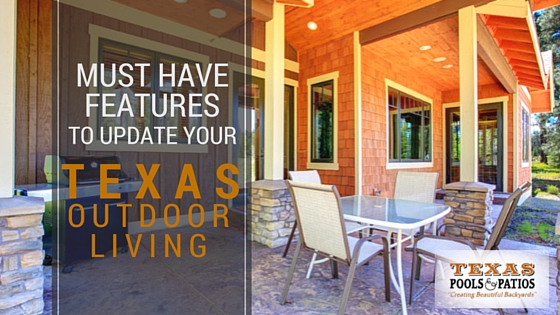 Everything is bigger in Texas, or at least that's how the saying goes. For miles and miles the hot, southern land stretches and big, beautiful homes line the streets. If you are one of the lucky Texans fortunate enough to have your very own home, perhaps you want to consider upgrading your outdoor living space.
Texas Pools and Patios would love to help you. Pools, decks, spas and patios are just some of the amazing things that we can add to your home. Here are some of the must-own, cannot-miss features to add to your Texas outdoor living space.
1. Decks
This first one is a no brainer. If you love the outdoors, then make the most of your space and your backyard. We can build the deck you and your family have dreamed of. Not only an amazing addition to you property, a deck can also provide a place of bonding and fun for you and the whole family. You cannot go wring with a classic, elegant deck, the perfect platform for your Texas outdoor living space.
2. Pools and Spas
During most of the months in Texas, the heat is sweltering and temperatures are always on the rise. Well now you can beat the heat with an incredible custom pool or spa.  Choose from a large variety and options of some of the most luxurious and beautiful custom pools in the entire south. From new pool design construction to remodeling your old pool, your ideal outdoor living space is easily achievable.
3. Garden Pools and Waterfalls
Maybe you are already satisfied with your pool, but wish you could add something to its surroundings to give it that extra flair. A custom garden pool and waterfall could be solution. These elegant amenities provide your pool and yard with class and will really wow all of your neighbors and friends. These are custom-made and will make the perfect addition to your pool or yard area.
4. Landscape Design
Now that your pool and deck are at pristine condition, it is time to upgrade and landscape the yard itself. The proper landscaping can turn your yard into the paradise you have always wanted. These additions highlight your pool, spa and deck areas and give your yard a total, all-encompassing look and feel of sophistication and magnificence
Your flowers, yard and walkways will be beautifully handcrafted and your entire outdoor living area will be just as you had always dreamt it would. Transform your Texas outdoor living space into an area you never want to leave!
If you are ready to transform your Texas outdoor living space into a place nothing short of magical, take a look at all Texas Pools and Patios has to offer and give us a call today!