How to Make Outdoor Living Your Texas Tradition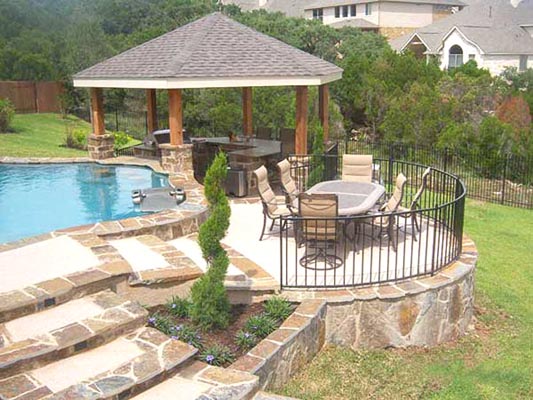 The climate here in Central Texas makes fall outdoor living one of the most enjoyable times of the year. While the majority of the country is hunkering down for rain, sleet and snow, we're kicking back and enjoying refreshing cool breezes.
One of the most challenging tasks homeowners face is planning and decorating a San Antonio outdoor living area. Here are a few ideas to get you started on creating the best outdoor living space that is perfect for entertaining and relaxation:
Having some form of cover over the patio means being protected from the elements. In the fall and winter, a cover can shield you from falling debris, rain drops and brisk winds. In the spring and summer, that same cover will create a shady reprieve where you and your family can comfortably hang out even when temperatures reach an all time high.
Your patio cover options are seemingly endless, from roof extensions to pergolas to screened porches or even shade sails. Texas Pools & Patios will work within your budget so that you will have the right cover that will be as functional as it is beautiful in your outdoor living area.
Outdoor kitchens do more than keep the mess and heat out of the house. They naturally draw everyone out into the great outdoors where guests may later lounge by the fire pit, splash in the pool, or sit for a chat at your outdoor bar.
Just like the kitchen inside of your home, your outdoor kitchen will become the center of activity. Set up a television nearby with the game on and your guests will never want to go home!
A New Inground Pool and Spa
Fall is a great time to go for a refreshing dip in the pool – and an even better time to ease yourself into the warm, relaxing waters of a brand new spa. Take those crisp starry Central Texas nights to the next level by lounging in your spa with a cool drink in hand. The experience is truly unforgettable.
Design Your Tradition with Texas Pools & Patios
An outdoor living tradition cannot be truly your own unless it is designed and built exactly how you want it to be.
Texas Pools & Patios is proud to be a part of creating memorable outdoor living spaces for families in San Antonio, Austin and Cedar Park. With experience in designing and building more than 10,000 outdoor living spaces, you can be sure that you will be left with a backyard you will love for the next many years to come.
Call Texas Pools & Patios to get started on creating your own fall traditions at (877) 409-7665 today.
ABOUT THE COMPANY
Texas Pools & Patios is an
award-winning Austin and San Antonio pool builder
serving Austin, San Antonio, Central Texas and the surrounding areas. We specialize in
custom designed in ground pools
,
pool renovation
,
outdoor living construction
, pool repair, maintenance and service.
As a family-owned and operated business, we pride ourselves on our
quality construction
, cutting-edge designs,
industry certifications
and awards, and building lasting customer relationships.
To learn more about our pool design and construction projects,
visit our website
subscribe to our blog
,
like us on Facebook
,
view our latest projects on Houzz
or
visit our YouTube channel
.