Lighting Ideas to Brighten Up Your Texas Backyard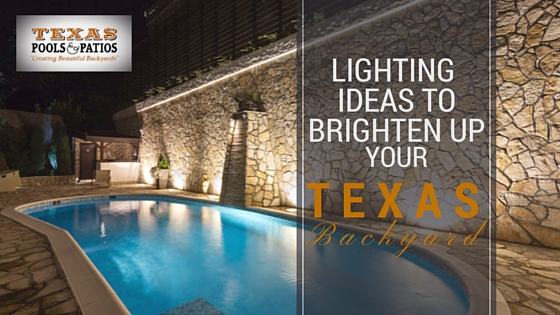 Autumn nights are here, and it's a great time to look out on the Texas night sky, watching all of the stars. However, if your yard is too dark and in need of a facelift, it can be hard to enjoy.
Outdoor lighting
is an amazing addition that many homes across America are utilizing to make the most of their yards, day or night. Your yard is an extension of your home, and as such, you want it to look the best that it possibly can. These helpful ideas and accessories will make your Texas backyard shine as bright as the night sky.
1. Colorful Canning Jars
This is a fun and creative idea to not only give your yard some light, but also maybe a little bit of color. Take some regular cord lighting and run it through your yard, trees and whatever other amenities or fixtures your yard has. Next, take some clear, translucent jars and paint them with some bright and vivid paints. Connect the jars to the end of the lights and you have homemade, color lighting for your Texas backyard. This is a cool look and a fun way to spend the weekend with the kids.
2. Glass Candle Lanterns
This lighting technique is not so much a permanent fixture but more of an accessory for parties and events. Candlelight has a certain ambience of peace and, combined with some stylish metal standees and pure glass casing, the elegance is pure. Plus, your guests will love the new addition to your yard. Glass candle lanterns make a great add-on to your poolside and light the area for some after hours swimming and fun. Also, this is a great idea for citronella candles to keep those pesky bugs away from you and your guests.
3. Tube Lighting
This is a more traditional lighting technique that also comes at a fair price. Tube lighting is readily available at many department stores. Instead of having one main fixture, you could spread the light throughout various parts of your yard. This is a more laid back,
cool hangout idea
for lighting your Texas backyard. Run the lighting across your deck or your spa area to give your yard that perfect touch.
4. Hula Hoop Chandelier
This idea is just plain fun and simple. Take a hula-hoop, whatever size you prefer, and run string lights across the bottom of the hoop before installing it into the ceiling of your deck. This gives you a mock chandelier that provides a great source of light and serves as a fun do it yourself style project. With a little time and effort, you can craft some really classy looking fixtures and save on the cost of a real chandelier.
These are just some ideas to really brighten up your
Texas backyard area
. For more ideas to make the most of your outdoor living space, visit our website or give us a call today!