How to Make Your Pool More Energy Efficient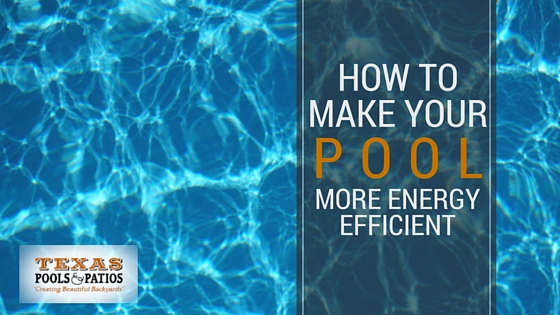 If you own a pool, you know that the real hidden cost is maintenance. Between chemicals, replacement parts and electricity, pool ownership can quickly become incredibly expensive. However, like most major home additions, it can be cheaper if you're efficient, particularly with electricity. Having the right equipment, a little time, and a little bit of know-how can save you thousands of dollars in the long run. To get the most out of all your equipment and outdoor living space, here are some tips on maintaining an energy efficient pool.
Your Filter
One of your biggest energy draws for your pool is easily your filtration system. All throughout the season, your single-speed pool pump can filter your water more than it needs to, wasting electricity and putting a strain on the hardware. With a variable-speed filter installed, you can operate at the minimum level to keep your pool clean, and you can customize it based on your seasonal needs.
You might also want to consider a smaller, slower filtration pump as well. Not only does this make a more energy efficient pool pump, but slower filtration actually cleans out dust particles more effectively. To further save money, you can look into a pump set on a time clock. This way, you can use your power only when you need it.
Your Heater
For the cooler months, a pool heater can make a big difference in outdoor living space enjoyability. Unfortunately, they can also make a big difference for your energy consumption. To maintain an energy efficient pool, you need to make sure your heater is adequate for your pool's size and desired temperature. That way, you don't waste unnecessary power on a unit that's too large on temperatures that are too hot.
Some Basic Cleaning and Maintenance
Of course, the right equipment doesn't work properly unless it's clean. It's a good idea to check at least the parts you can see and keep them free from debris every so often. Even simple things like making sure as much water as possible flows through your vents can make a big difference.
Going beyond that, change out your pool's filter every few years for the same reason; too much debris in the system puts a strain on your pump, which in turn strains your energy. As another preventative strategy, look into a robotic pool cleaner to augment your regular filter. These tiny self-driving machines can be much more energy efficient than some older filter models.
Another great option for an energy efficient pool is a cover for the fall and spring months. Not only does this keep wind and debris out, but it keeps all your heat inside your pool water. If possible look for an insulated cover to further keep your pool warm well into early winter.
Each and all of these suggestions can help trim your electricity bill down, and none are difficult. With a little forethought and some updated equipment, you can get much more life out of your pool than you ever thought possible. For more information about creating and maintaining an energy efficient pool, check out our construction and renovation services, or give us a call today!