Features of a Family Friendly Pool & Backyard Space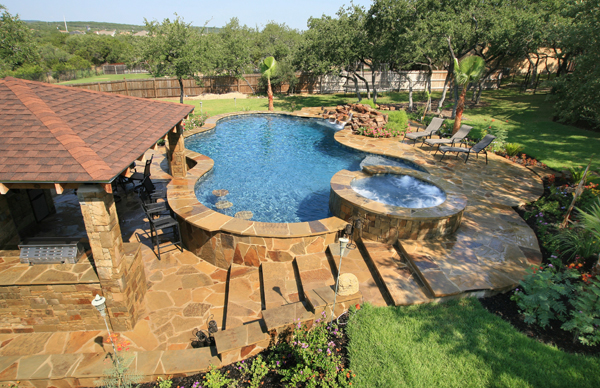 Austin & San Antonio Family Friendly Backyards
It's officially summer, and it's time to put down the tablets and video games and step out and enjoy the fresh air and sun. Give you and your kids a fun backyard set up to enjoy all summer long with these family friendly features.
Swimming Pool
An ultimate backyard investment for guaranteed fun that can be enjoyed by the entire family (kids, parents, and grandparents alike) is a backyard swimming pool. There are hundreds of designs and features to choose from; for a family friendly pool, we recommend adding fun features such as a pool slide, water features (such as bubblers, deck jets, and fountains), and beach entry design to accommodate swimmers of all ages and skill levels.
Outdoor Deck/Lounge
Take the summer barbecues and birthday parties outdoors with an outdoor deck to accommodate the whole crew. Built in fire pits with benches and lounge areas coupled with patio tables ensure everyone has place to sit. Add string lights for a festive, fun vibe.
Outdoor Movie Screen
The fun doesn't have to stop when the sun sets. Nothing is quite relaxing after a day of play is seeing your favorite flick on the big screen in your own backyard. Shoot a projector on a white wall or white canvas, gather some lawn chairs, and don't forget the popcorn.
Picnic Area
An open, grassy area is always nice to have in a family backyard for your next backyard camping session, picnic spread, or croquet game. For backyards that have forgoed natural grass, artificial turf works and is just as fun.
ABOUT THE COMPANY
Texas Pools & Patios is an award-winning Austin & San Antonio pool builder serving Austin, San Antonio, Central Texas and surrounding areas. We specialize in custom designed in ground pools, pool renovation, outdoor living construction, pool repair, maintenance and service. As a family owned and operated business, we pride ourselves on our quality construction, cutting-edge designs, industry certifications & awards and building lasting customer relationships.
To learn more about our pool design and construction projects, visit our website, subscribe to our blog, like us on Facebook, view our latest projects on Houzz or visit our YouTube channel.