Our Favorite Luxury Pool Features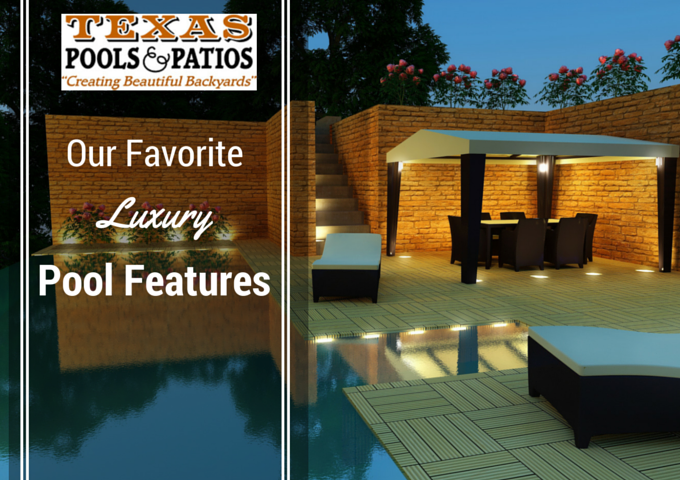 So you've finally decided on a pool for your backyard. Now, however, you're looking to add a little luxury to your pool setup. You want your pool to be as stylish and fun as possible, making it the centerpiece of your home and the envy of your neighborhood. Luckily, we're living in an era where there is an almost unlimited amount of luxury pool features to take your Austin or San Antonio pool to a higher level than you've ever imagined. Read on for a list of our favorite luxury pool features.
In Pool Bar Stools
Swim-up pool bars have long been a favorite choice for those looking to outfit their pool with luxury features. Sometimes, however, you want to take a load off at your pool bar instead of standing at it. This is why one of our favorite luxury pool features is in-pool barstools. When you have in-pool barstools, you can host a great pool party without anyone having to get out of the water to be able to sit down. If you use your pool to entertain friends and family regularly, then in-pool bars stools are absolutely the luxury pool feature for you.
Glass Tiles
Many pool owners are as concerned with the look of their pools as they are with how they're going to use it. Sure, you want your family and friends to have fun cooling off in the water, but you also want them to be impressed with how your food looks. Because of their ability to catch light and create a cool underwater visual effects, glass tiling is another one of our favorite luxury pool features. Glass tiles come in a variety of styles, and you'll be able to find the one that's perfect for your pool and will be sure to give it a unique look that visitors won't soon forget.
Fire Bowls
Using your pool area for outdoor parties are one of its great uses, and many people are choosing to hold these type of parties at night because of the great atmosphere. Holding night time pool parties is the primary reason that fire bowls are one of our favorite luxury pool features. In addition to providing great lighting around your pool, they also look really great and will almost definitely be a talking point at all of your pool functions.
Grottos
One of the hottest trends right now is making your pool look as natural as possible, almost as if you've found a pristine body of water instead of a backyard pool. This trend is why adding a secret cave or grotto to your pool is another one of our favorite luxury pool features. Adding a grotto, along with something like a waterfall, can make your pool seem like some sort of secret oasis, which is something that will really add to your family's enjoyment.
Let Us Serve You
When you are ready to spruce up your backyard pool with just the right luxury features,
Texas Pools and Patios
is the company to install them for you. We offer a wide range of patio and pool services and are ready to make your pool look exactly the way that you want it.
ABOUT THE COMPANY
Texas Pools & Patios is an award-winning Austin & San Antonio pool builder serving Austin, San Antonio, Central Texas and surrounding areas. We specialize in custom designed in ground pools, pool renovation, outdoor living construction, pool repair, maintenance and service. As a family owned and operated business, we pride ourselves on our quality construction, cutting-edge designs, industry certifications & awards and building lasting customer relationships.
To learn more about our pool design and construction projects, visit our website, subscribe to our blog, like us on Facebook, view our latest projects on Houzz or visit our YouTube channel.