Enjoy a Longer Swim Season with Pool Heaters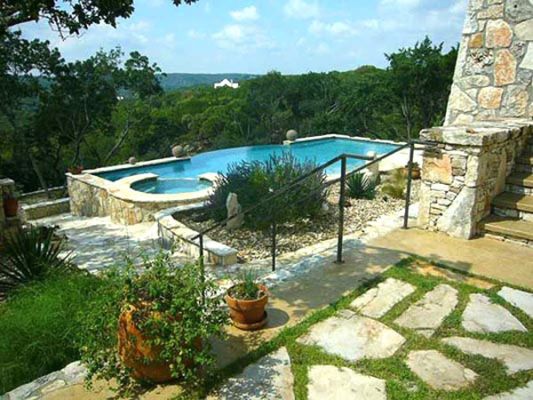 In our area of south central Texas, we are fortunate to enjoy a long pool season. It always comes as a bit of a let-down, though, when pool season finally comes to an end. Delay the inevitable this year with one of these great options for raising the temperature of your pool water.
Energy Efficient Pool Heaters
Today's pool owner has access to a wide variety of affordable and energy efficient pool heaters. The most practical, and therefore most common pool heaters in our area burn natural gas. However, models are available which burn propane gas as well as those which are powered by electricity. Also of interest are modern heat pumps which use air or geothermal water to warm Freon gas which is then compressed and used to heat pool water.
Energy efficient heaters are easy for your pool company to install and fairly inexpensive. The only down side is that the cost of regular use can come as an unwelcome surprise on your monthly utility bills. For this reason, some pool owners prefer the next exciting pool heating option.   
Solar Pool Heaters
Solar pool heaters are more expensive to purchase and install than traditional heaters. To those pool owners seeking to avoid elevated utility costs, as well as those who prefer a more ecologically responsible option, this is an acceptable trade-off. Solar heaters consist of an array of solar panels with specialized, built-in channels. The panels absorb heat from the sun's rays which is then transferred to pool water as it is pumped through these channels.
Imagine being able to warm your pool every day of the year at no recurring cost and with zero carbon footprint! The only drawback to a solar heating system is its ineffectiveness during nighttime hours, but many owners find they are able to heat the pool during the day and still enjoy comfortable water temperatures into the evening.
Solar Pool Covers
The simplest and most cost-effective of our three pool heating options is a solar pool cover. They are available in customizable designs to fit any size and shape of pool. Many are even automatic, allowing you to cover and uncover your pool at the touch of a button! Solar covers are made of a special insulated material that absorbs the heat of the sun and transfers it to pool water. This insulated material also helps minimize heat loss during the evening hours, thereby reducing the amount of time it takes for the sun to warm the pool during the day.
For those looking to get a longer season of pool enjoyment, one or more of these pool heating options is sure to be a good fit. Give Texas Pools and Patios a call today to discuss the best options for your needs and budget!