Design Trends for Austin and San Antonio Pool Builders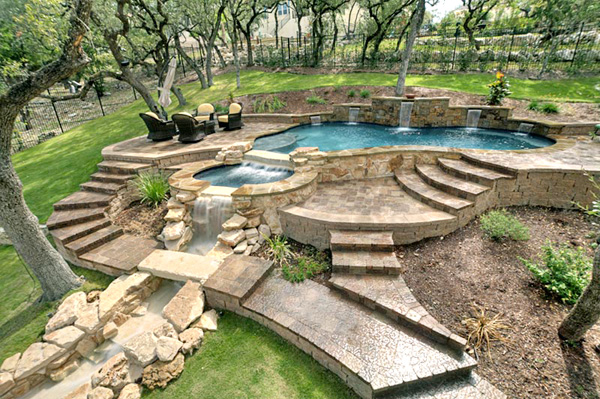 As 2017 is wrapping up, we're looking ahead at the San Antonio swimming pool builder design trends that are sure to heat up as the temperatures rise in the new year. If you're planning a brand new backyard oasis, are thinking about giving your existing poolscape an upgrade or are hoping to accessorize your pool, these are the 2018 custom pool trends that are going to be a big hit in the upcoming year:
Smaller Poolscapes
Think your backyard is too small for a pool? Think again. The demand for smaller pools is on the rise as many of us discover that sometimes the best things in life
do
come in smaller packages.
Smaller pools allow for more recreational space in the backyard

When properly designed, smaller poolscapes can occupy spaces which may

otherwise not serve a functional purpose

The smaller the pool, the less maintenance it needs
Ledges for Lounging
Tanning ledges not only provide a space to cool off without having to fully immerse yourself in a pool. Austin pools with tanning ledges give that resort-like feel, adding to the luxurious atmosphere of your backyard.
You can take your in-pool ledge lounging to the next level with sunken furniture, another top trend for the San Antonio pool builder in the new year. Look for pieces that are UV-resistant, that suit your poolscape, and are comfortable for lazing under the hot sun.
Fully Automated Pools
Owners of San Antonio and Austin pools can now control almost every aspect of their pool through an app on their smartphone. From scheduling regular maintenance and turning on the heater to creating a stunning water and light show, all of this is now possible – even when you are nowhere near home with automated pool systems.
Dark and Dusky Pool Surfaces
Bright aqua-colored pool surfaces have been the rage for decades, but there is going to be an uptick in darker colored pools this year. Not only do darker surfaces create an entirely different ambiance, but these shades can retain more of the sun's heat and keep your pool water warmer for longer.
Elusive Edges
From infinity edges to disappearing spas, these breathtaking hot tubs and poolscapes are going to continue to be in demand for 2018.
Austin and San Antonio Custom Pool Contractor
At Texas Pools & Patios, we make it our business to stay on top of each exciting trend and development in the pool and hot tub industry and we pride ourselves on bringing perfect poolscapes to life.
Have a question about any of the trends on our list or are interested in building a new poolscape? Speak to an accomplished San Antonio pool builder at Texas Pools & Patios today at (877) 689-5461.
ABOUT THE COMPANY
Texas Pools & Patios is an
award-winning Austin and San Antonio pool builder
serving Austin, San Antonio, Central Texas and the surrounding areas. We specialize in
custom designed in ground pools
,
pool renovation
,
outdoor living construction
, pool repair, maintenance and service.
As a family-owned and operated business, we pride ourselves on our
quality construction
, cutting-edge designs,
industry certifications
and awards, and building lasting customer relationships.
To learn more about our pool design and construction projects,
visit our website
subscribe to our blog
,
like us on Facebook
,
view our latest projects on Houzz
or
visit our YouTube channel
.