Custom Designs Every Pool Owner Must Have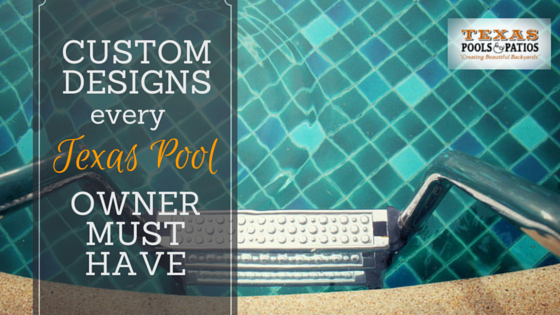 If you are like most property owners in Austin, Texas, you probably have big
ideas for your backyard
spaces. Since the heat has a tendency to beat down on residents during the summer, backing off slightly during the winter, homeowners in Austin are continuing to install beautiful pools that have some amazing features. Pool building is currently more innovative than ever before—testing boundaries and providing clients with a space that looks out of this world. If you will be starting your project soon, you probably already have a clear vision in your head for how you expect the finished product to look. Nevertheless, take your time when discussing plans with your builders and go through their portfolios to learn new ideas that you might not have thought of before. Here are a few custom designs that every pool owner must have.
Cascading Waterfalls
Waterfalls have always been a favorite among those with custom pools. This mystifying and calming element that is taken straight from nature provides an unmatched beauty with its presence. Why have one waterfall when you can have them cascading throughout your pool area? This is a trending idea that homeowners are loving. The effect is absolutely breathtaking. You will feel as if you have your own personal escape, and your guests will be amazed at the ingenuity that transformed your plain backyard into a paradise. Not only are waterfalls beautiful, but the sound that is created by flowing water is enough to wash away all your stresses. Pair this with an
in-ground spa
and you will have the ultimate way to relax in your outdoor area.
True Gunite
Luxury custom pools are often designed to look as if they blend right into nature. Of course, there are many who love contemporary themes that feature straight lines and simplicity, but you might notice one similarity between all quality made pools, despite the design—gunite. Gunite is a mixture of sand and asphalt that, when properly installed by trained professionals, eliminates the potential for cracking. This is the highest quality of material that you can select for the lining of your custom pool. It is very important that builders do not cut corners when they are preparing and installing gunite. Some builders install products known as "shotcrete" or "wetcrete" that is not true gunite and not capable of withstanding the extreme pressures that gunite can handle. Texas Pools and Patios believes in using only true gunite for their custom pools.
An Outdoor Cabana
The perfect element that will tie your beautiful outdoor space together is to build an outdoor cabana. This is your area to relax, cook a good meal or entertain a few friends. Quality builders will be able to provide you with a cabana that will fit your existing theme or new design. Do not forget to include features such as a fire pit or fireplace for those nights that do get a bit chilly.
Start Your Project Today
If you would like to start building a new custom swimming pool or add these features to an existing outdoor area, now is the time to start your project. For more information on custom pool features in Austin,
contact a representative
with Texas Pools and Patios today.