Crush Those New Year's Fitness Resolutions with a New Pool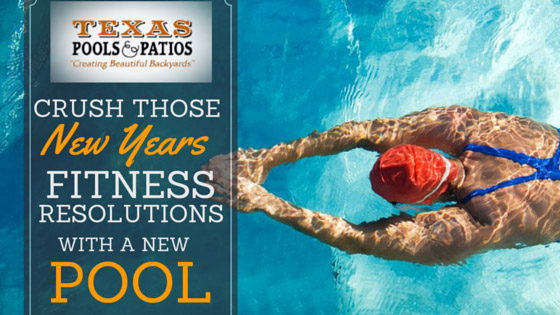 New Year's resolutions often involve losing weight, eating healthier, and/or getting fit. The question is, how are you going to make this year the year you are successful? According to Forbes, only 8% of New Year's resolutions are kept! What are the other 92% of us doing wrong? First, it is important to find an exercise program that you enjoy. Second, you need to choose an activity that is convenient, and finally, you need to be able to change things up from time to time.
The Most Fun You Will Ever Have Exercising
The best exercise program does not feel like exercise; it feels like a
fun activity with family or friends
. It can even be a relaxing activity on your own. A
backyard swimming pool
offers you the ability to choose an activity that feels like an indulgence while you are improving your fitness level. Swimming and water based exercises offer many benefits. One of the main benefits is that aerobic and resistance exercises can be accomplished with no impact on the joints, thus protecting knees, hips and shoulders from the wear and tear of conventional exercise programs.
The Importance of Convenience
Remembering to bring your gym bag with you to work is a pain. Getting up at 4AM in order to go to the gym before work or having the energy to go after work is a recipe for another broken New Year's resolution. There is also the expense of monthly gym memberships and the annoyance of waiting for the piece of equipment you need next in your workout. Plus, how many times have you purchased home workout equipment only to have it end up gathering dust or becoming a place to hang laundry? A pool is always available, and thanks to the mild winters common in Austin and San Antonio, Texas, always comfortable. Instead of driving to a gym, you need only step outside when it is convenient for you and your schedule. You can choose to exercise alone in the privacy of your own yard or invite a workout buddy to join you. Having your own pool puts all of the options in your control.
Boredom is the Enemy
Boredom will kill a commitment to work out faster than anything, except perhaps an injury. Fortunately, the variation available to those using their pool as a workout is almost endless. You can swim laps in order to improve cardiovascular health, and utilize interval training to increase the calories burned. Swimming also works and tones all the muscle groups of the body, and this can be increased by using floats or paddle boards that are available in many sporting goods stores. It is easy to keep your workout fresh with all of the different options available in the comfort of your own pool. If you want to crush your New Year's fitness resolution by exercising in your own
custom swimming pool
, please visit our website at Texas Pools and Patios and learn more about our pool building services.
ABOUT THE COMPANY
Texas Pools & Patios is an award-winning Austin & San Antonio pool builder serving Austin, San Antonio, Central Texas and surrounding areas. We specialize in custom designed in ground pools, pool renovation, outdoor living construction, pool repair, maintenance and service. As a family owned and operated business, we pride ourselves on our quality construction, cutting-edge designs, industry certifications & awards and building lasting customer relationships.
To learn more about our pool design and construction projects, visit our website, subscribe to our blog, like us on Facebook, view our latest projects on Houzz or visit our YouTube channel.