Create This Cute Aquarium Diorama with Your Kids This Summer!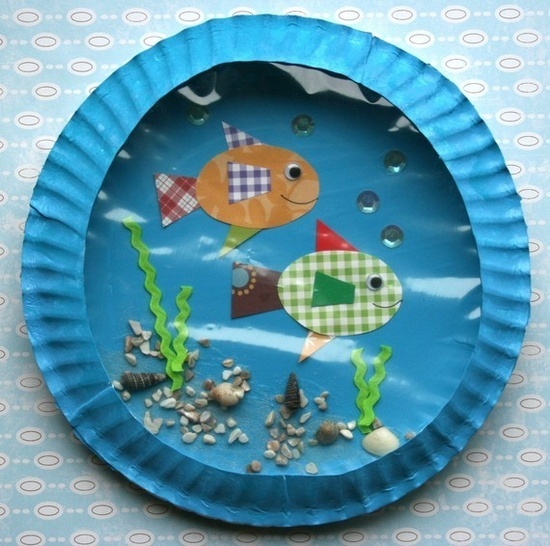 Keeping little hands busy during the summer months isn't always easy! But what child doesn't like some summer crafting time, especially during those mid-afternoon hours when the Texas sun is unbearable! If it's too hot (or rainy) to enjoy the outdoors with your little one, why not help them create their own under water adventure with this paper plate aquarium! All you need are a few simple art supplies and a little imagination, and the kids can share their own sea world for all to see.
WHAT YOU'LL NEED
No fancy ingredients here- if you're a crafty household, you probably have all of this already on hand:
2 white or blue paper plates
6-inch diameter circle of clear plastic (from packaging material or plastic wrap for food)
Colored construction paper or tempera paint
Scissors
Glue, tape and stapler
Crayons or markers
1 foot of thread or yarn
HOW TO MAKE IT
1. Turn one paper plate upside down, draw a circle around the base of the plate and cut out the entire bottom (the part you would normally eat off of). This will become the viewing area of the aquarium. Tip: Don't cut through the sides do get to the middle- you'll want to leave the outer ring in tact to frame the aquarium "tank", so use a knife or the pointed end of the scissors to pierce a hole in the middle of the plate, then cut from there.
2. Cut a circle of the clear plastic a bit larger than the front plate (about ¼ inch larger than the hole) for the viewing area. Tape the plastic to the inside of the outer ring that you have left from step 1.
3. Make a blue background on the second plate by either gluing blue construction paper to it or coloring/painting it blue.
4. Draw or cut out fun sea animals and plants for the inside of the diorama. Green and bright colored fish and coral are perfect for the background. Think about starfish, jelly fish, seahorses, sharks and whales. If your little one is a Disney fan, why not try to recreate the characters of Finding Nemo?
5. Add the sea creatures by either gluing them to the background or hanging them from the threads at different lengths.
6. Tape or staple the top plate to the back plate. Write their name and the date on the back and keep it as a memento of these precious summer days!