Choosing a Pool Builder Checklist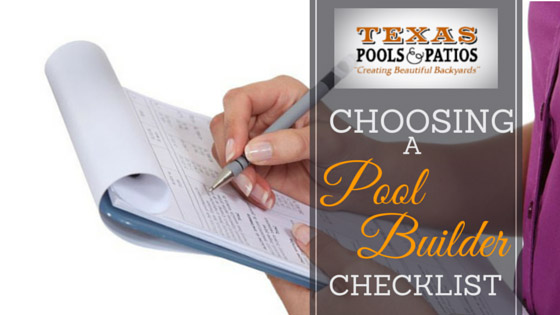 Deciding to add an in ground pool to your home is a big step. Once that decision is made, you have to face the most important aspect of the
pool building process
: who will you get to build your new pool?
A pool is a significant investment and will be an important addition to your home and to your family's enjoyment for as long as you own your home.
It is up to you to decide on
a builder with a solid reputation
for building quality pools. This checklist will help you make the right choice without worry or stress.
Ask friends, family, co-workers and neighbors about their pool building experiences. Who did they use? Were they happy with their overall experience and the results?
Insist on a pool builder that is certified by The American Pool and Spa Professionals (ASPS) and check their rating with the Better Business Bureau (BBB). The ASPS certification will assure that your builder is an educated professional pool builder and not a "guy in a truck," and an A+ rating from the BBB will prove that they are also professional in their business practices.
Ask your perspective builder for references and then check at least three of those references. Don't just call the first three on the list either; mix it up and call from the beginning, middle and end of the list. An experienced builder should be able to provide you with an extensive list of references (more than 20).
It is also important to ask the right questions when calling a reference so that you get the information you need to make the correct decision. Some important questions to ask are:
How long ago was your pool installed? (Look for recent references and some from several years ago. Some pool builders have only been in the business for a year or less and do not yet have an established track record.)
Did the builder complete the work on time? Was the final price what you expected and within the limits established by the contract?
How were problems handled by the builder? If something did not go as planned, how was this dealt with by the builder?
Were the builders and workers professional and courteous? Did you feel comfortable allowing them access to your home and yard?
Choose a builder with experience building pools in your area. Climate, landscape, and available space all play an important role in pool design and building. A builder with experience in your area will have the best tools to build you the perfect pool.
Finally, read the entire contract! A responsible builder will give you time to read over every line of the contract and will be happy to address any questions or concerns you may have.
This checklist will lead you on your way to choosing an excellent pool builder. Texas Pools and Patios is an ASPS certified pool builder specializing in gunite pools in the Austin and San Antonio areas. We are second generation pool builders that guarantee your pool will be exactly what your family wants. If you would like more information, visit our
construction page
,
or contact a representative with Texas Pools and Patios today.
ABOUT THE COMPANY
Texas Pools & Patios is an award-winning Austin & San Antonio pool builder serving Austin, San Antonio, Central Texas and surrounding areas. We specialize in custom designed in ground pools, pool renovation, outdoor living construction, pool repair, maintenance and service. As a family owned and operated business, we pride ourselves on our quality construction, cutting-edge designs, industry certifications & awards and building lasting customer relationships.
To learn more about our pool design and construction projects, visit our website, subscribe to our blog, like us on Facebook, view our latest projects on Houzz or visit our YouTube channel.