Children's Pool Party Ideas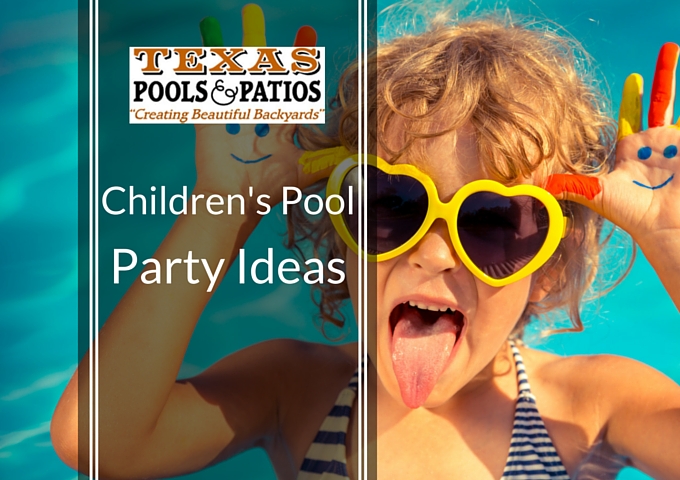 Now that the weather is starting to heat up again, it is time to start gearing for up for all day poolside fun in the sun. If you are like countless other American homeowners and pool lovers, your summer will be filled with entertaining and keeping up with your little ones. What better way to cool off this summer and spend time with your kids than with an exciting pool party? Here are a few ideas to make your next kids' pool party the best one yet.
Picking the Perfect Theme
 All of the best pool parties in the history of pool parties have had a theme—and when choosing a theme for a children's pool party, the ideas and possibilities are endless. You can find inspiration straight from your pool, or you can get even more creative and animated. Whatever you decide, have fun with it, and don't be modest. The more interesting and unique theme you decide, the more fun and excitement there will be for your party guests.
If you want to go with a more aquatic theme in solidarity with the main attraction of your party—the pool, that is—you can never go wrong with a traditional luau or beach theme. You can decorate and fill the pool with beach balls and other beach toys and even provide guests with hula skirts or leis. If conditions allow, incorporate a sand pit to give the ultimate beach feel and experience. For even more kiddy fun, consider a theme based on the animated film, Finding Nemo. This Pixar movie is a kid favorite and is perfect for a sunny, water-filled day. 
Exciting Games and Entertainment
 Although your pool is loads of fun all by itself, you can enhance and expand this experience for your kids with the perfect pool games. Marco Polo is a classic pool game that never gets old, and what better way to introduce your children to this American tradition than at their very own pool party? Along with the beach theme, you can put on an exciting game of treasure hunt which will make your party one to remember.
Party Favors for Your Favorite Party Goers
 No party is complete without handing out party favors at the end, and this is especially true for a children's party. It doesn't take much to put a smile on a little kid's face, so it's hard to go wrong when deciding the right party favors. To make it easier for you, choose a party favor that correlates with your party's theme. If you choose a beach theme, for instance, you can hand out little beach tote bags with a personalized pin or luggage tag. Whatever token you decide to give away, be sure it will remind your guests of all the fun they had at your summer pool party.
Get your kids excited and ready for summer with the perfect children's pool party. Find out how Texas Pools and Patios can customize your pool for all your pool party and summer fun needs today.
ABOUT THE COMPANY
Texas Pools & Patios is an award-winning Austin & San Antonio pool builder serving Austin, San Antonio, Central Texas and surrounding areas. We specialize in custom designed in ground pools, pool renovation, outdoor living construction, pool repair, maintenance and service. As a family owned and operated business, we pride ourselves on our quality construction, cutting-edge designs, industry certifications & awards and building lasting customer relationships.
To learn more about our pool design and construction projects, visit our website, subscribe to our blog, like us on Facebook, view our latest projects on Houzz or visit our YouTube channel.