Backyard Enhancements That Will Leave You Singing a Happy Song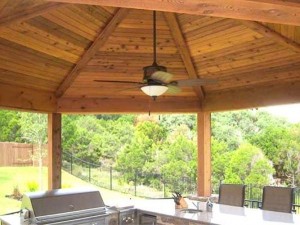 The 4th of July is our nation's celebration of independence and brings out the best in barbecue and backyard entertaining. But did you also know that July 4th is national country music day? Considering that Austin is the live music capitol of the world and that country great George Strait comes from the San Antonio area, we felt it was worth mentioning. While both cities and their many performers offer up some great entertainment, so can you – right in the comfort of your own backyard. When we think of backyard enhancements, pools and spas are usually the first things that come to mind but equally important are those dry zones that offer us a place to lounge, dance, cook, eat and enjoy. Whether you're looking for a nice, cozy, shady spot or a platform large enough to host your favorite local band, there are some great options for you to consider:
Patios and Decks
From stamped concrete swimming pool decks to beautiful flagstone patios, there are an abundance of options available. Various sizes, shapes, materials and colors offer an array of possibilities that enable you to create what feels best for your unique backyard environment.
Pergolas
Pergolas provide additional shade and coverage without completely boxing out the elements. From patio covers to free standing structures large enough to fit several picnic tables below, the choices for your outdoor entertainment zone are many.
Cabanas
These structures are more enclosed (whether by walls or with curtains or canvas for more privacy) and are almost like an additional room. Since cabanas offer more protection from the elements, you'll often see them structured like an outdoor living room with televisions, stereo equipment and sometimes even private changing areas. The beauty in and of these features is that they can be worked into your backyard design at any time; with or without a pool. Dress them up with comfortable furniture, a barbeque or perhaps a water feature to complete your desired look and feel. So book the band, crank up your stereo or just sing silly songs under the stars and delight in the backyard entertainment zone of your dreams.
Come visit our photo galleries for great Patio, Deck and Pergola or Cabana ideas.