9 Important Questions to Ask Your Austin Pool Builder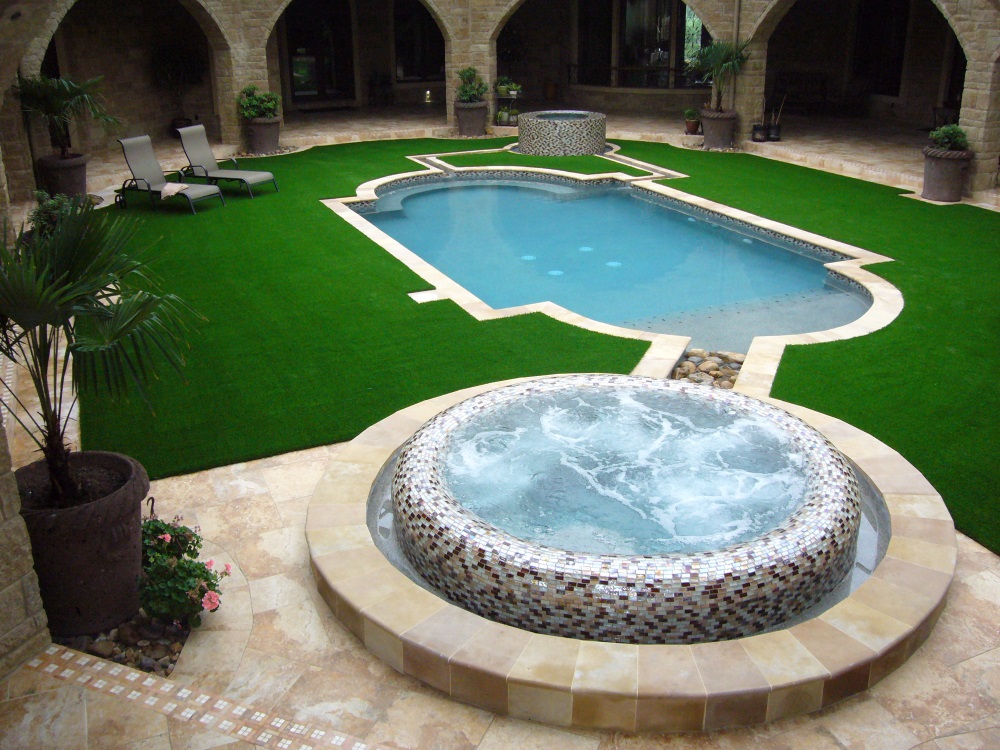 Have you always wanted a backyard pool, but don't know where to start? Well, Texas Pools & Patios is here to help! There is a lot of planning and work that goes into designing and building a pool (not to mention the financial investment) so it's important to understand your options upfront. As you begin the process of planning your pool, use these 9 Important Questions to Ask Your
Austin
Pool Builder to get the confidence and knowledge to make the best decisions for you and your family.
1. Can You Explain the Pool Design & Construction Process?
The first question you should ask is about the pool builder's process. Ask for an overview of their design and construction methods. Not only will this help paint a picture of the steps that go into building a pool, the explanation may help you come up with additional questions or concerns and give insight into how organized (or disorganized) the potential pool builder is.
2. Do You Know the Local Building Regulations & Permits Needed?
Your pool builder should understand all of the local pool construction regulations and safety codes. Keep in mind that your homeowners association may may have additional regulations specific to your community, but the builder should be able to find these out beforehand. As far as general local and state regulations and the necessary permits, your pool builder will be able to provide you with all the information you need.
3. Once You Begin Construction, How Soon Will I Be Swimming?
You should ask your
Austin
pool builder how long it typically takes to complete the design and construction of a pool. The spring and summer can be a busy time for pool contractors, so you may want to get started as early in the year as possible. Autumn and winter can be ideal times to build a pool, provided there are no abnormal weather delays. Make sure that the estimated build time is taking into account not only the typical construction phases, but also the builder's project load. Then add an extra three weeks to the timetable (for your own peace of mind) to allow for delays beyond the builder's control – like Mother Nature.
4. Do You Have Examples of Your Work, Pool Design Photos?
A reputable pool builder should be able to provide a portfolio of previous pool projects. In fact, they should be proud to show you. A good portfolio can not only give you a sense of the builder's design approach, but can also indicate the level of innovation and custom quality you can expect. Many pool builders use their pool design photos to help walk new customers like yourself through the design process, as well as, picking out design elements and features that appeal to you.
5. What Are the Best Pool Design Options for My Backyard?
Find out as much as you can about the process of having a pool designed specifically for your backyard. Most experienced pool builders, such as the experts at Texas Pools & Patios, will work with you to come up with a custom design that meets your needs.
6. What Type of Water Features Would Work Best with My Design?
Don't forget the water features! Water features are a great way to customize your pool, just for you. Waterfalls, tanning ledges, deck jets and more can make your pool more functional and aesthetically pleasing. Keep in mind, it is much easier to have water features added during the initial construction of a pool rather than having them added at a later time.
7. How Much Maintenance Is Involved in Owning a Pool?
Before you have your pool installed, find out what kind of upkeep will be required to make sure you're prepared for pool ownership. If you are not prepared for the regular upkeep, then you'll need to consider the regular cost of pool maintenance in your budget.
8. Do You Have Any Customer Reviews Available?
Always ask for customer reviews or references from your pool builder. This will help you to determine what past customers have to say about the pool builder that you are talking to. Learn what their experiences were and if they were happy with the results. But don't just take their word for it. Go online and look at popular review sites like
Facebook
and Google for unbiased feedback. Keep in mind that most people choose to leave online reviews when they're angry and facts may not always be reliable, but the pool builder's response to any negative reviews can be just as revealing as the reviews themselves.
9. What is the Estimated Cost?
Every builder should be able to quote you a price. Most builders choose not to quote price until they've gone through the design process with you. Although some homeowners are wanting an immediate answer, before the design is agreed upon, it's actually the most thorough and honest approach. The price of a pool is directly dependent on the design, features, materials and your backyard itself. Going through the design portion prior to a receiving a quote, helps to make sure you understand what you are getting for that price so there are no surprises.
Having a custom pool installed in your backyard is one of the biggest home improvement decisions you can make. When it comes time to start building, make sure it's with a
Austin
pool builder you can trust!
Contact the professionals at Texas Pools & Patios today to get started on your custom pool design and construction project.
ABOUT THE COMPANY
Texas Pools & Patios is an
award-winning Austin and San Antonio pool builder
serving Austin, San Antonio, Central Texas and the surrounding areas. We specialize in
custom designed in ground pools
,
pool renovation
,
outdoor living construction
, pool repair, maintenance and service.
As a family-owned and operated business, we pride ourselves on our
quality construction
, cutting-edge designs,
industry certifications
and awards, and building lasting customer relationships.
To learn more about our pool design and construction projects,
visit our website
subscribe to our blog
,
like us on Facebook
,
view our latest projects on Houzz
or
visit our YouTube channel
.