7 "Must-Have" Fire Pit Accessories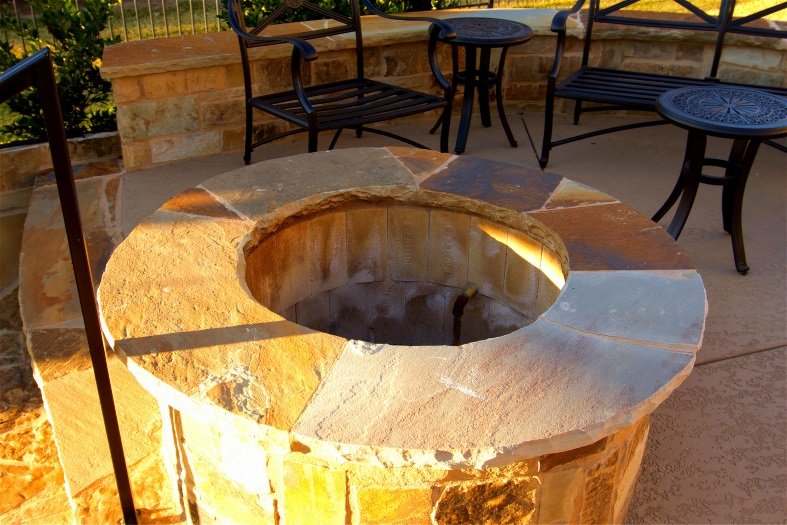 There is no better way to extend your spring and fall entertaining season by having a warm, dazzling fire pit in the backyard. With these seven must-have fire pit accessories, you will be able to transform your fire pit not only into a focal point, but a fun and functional part of your yard, as well.
Fireside Seating
Whether you regularly entertain or enjoy sitting by the fire on a quiet night, having plush, comfortable seating always near the fire pit will not only keep you cozy, but it will beckon yourself and others out into the great outdoors even on the chilliest of nights.
Fire Pit Grill
If you do not already have a grill or an outdoor kitchen, you can transform your fire pit into a place where you can cook up steaks and burgers. These temporary grills come in a variety of shapes and sizes, with some featuring a tripod design so you can use the grill anytime and anywhere.
Roasting Tools
Rather than venture off in search of a stick or dismantling a coat hanger, have roasting tools on hand to cook up some of your favorite fireside foods like hot dogs and marshmallows. Professional roasting tools feature extendible handles which will help prevent accidents and burns.
Popcorn Popper
Interested in a healthier snack by the fire? Consider investing in a popcorn popper. These poppers feature a long handle that keeps handlers away from the flame. All you'll is a small amount of oil and some popcorn kernels.
Fire Glass
If you want to transform your fire pit into a unique and dazzling display, consider adding some fire glass. Fire glass comes in a variety of colors from red and purple to cool blues, and you have your options when it comes to the type of glass you would like, including accent, reflective and smooth.
You can find fire glass in a variety of sizes, from ¼ inch to 2 inches.
Safety Screen
A safety screen is particularly important if children and animals will be around the fire. These screens will protect you and other guests from the open flames. If you have a wood-fueled fire pit, it will also protect you and your property from sparks.
Fire Pit Cover
Fire pit covers are necessary if you want to protect your fire pit from the elements and extend its longevity. While most fire pits do come with basic covers, you can add a bit more backyard pizazz by choosing an attractive aluminum, galvanized steel or copper cover.
ABOUT THE COMPANY
Texas Pools & Patios is an
award-winning Austin and San Antonio pool builder
serving Austin, San Antonio, Central Texas and the surrounding areas. We specialize in
custom designed in ground pools
,
pool renovation
,
outdoor living construction
, pool repair, maintenance and service.
As a family-owned and operated business, we pride ourselves on our
quality construction
, cutting-edge designs,
industry certifications
and awards, and building lasting customer relationships.
To learn more about our pool design and construction projects,
visit our website
subscribe to our blog
,
like us on Facebook
,
view our latest projects on Houzz
or
visit our YouTube channel
.