6 of Our Favorite Features for Custom Pools
As builders of custom pools, we've been fortunate enough to work with a number of creative homeowners who, when paired up with our custom pool design team, have allowed us to create a number of gorgeous and unique pools that boast some of the best features the industry has to offer.  Below are six of our favorite features. 
1. The Baja Ledge
Providing a shallow space for bathers and those who may be shy of the deeper water to lounge, the Baja lounge or tanning ledge is a multi-functional retreat that can be incorporated into a number of custom pools.  Though typically seen in freeform pools, these ledges are becoming increasingly popular in geometric and lap-style pools.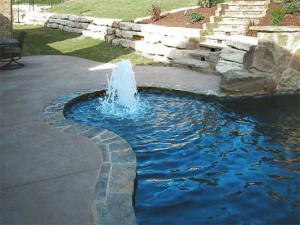 2. Creative Lighting
Lighting doesn't only add safety around the pool, but homeowners can completely transform the atmosphere of their backyard with creative placing of colorful lighting.  Choose from lighting options such as low profile lights that help accent pathways, underwater LED lights that make night swims safe and fun, and whimsical fiber optics that add visual interest and drama to your poolscape.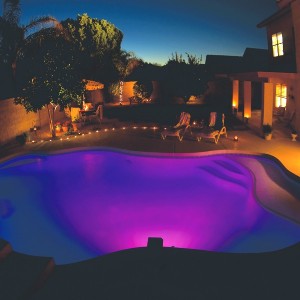 3. Grottos
Secret aquatic caves are becoming all the rage in custom pools.  Rocky grottos, typically made of artificial rock, can be tucked neatly behind tumbling waterfalls to create either a secret watery retreat for children or a hidden romantic getaway for grownups.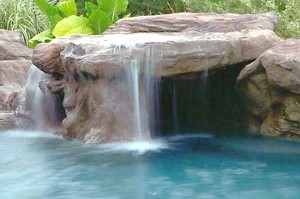 4. Beach Entry
Custom pool designs have begun to increasingly incorporate a variety of pool entries like beach entries into their designs because they are more functional and attractive than ladders stairs.  Much like the Baja ledge, the beach entry provides a gradual and more shallow area in the pool for little ones to play while still being able to get in on the fun of being in the pool.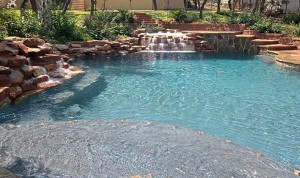 5. Waterslides
No matter what your age, everyone enjoys a quick slip down a waterslide!  Today's waterslides offer homeowners the option of taking a high speed plunge or they will send bathers twisting through curves and turns. The great thing about slides in custom pool design is that they can be incorporated into the over all design so that you it's functional and aesthetically pleasing.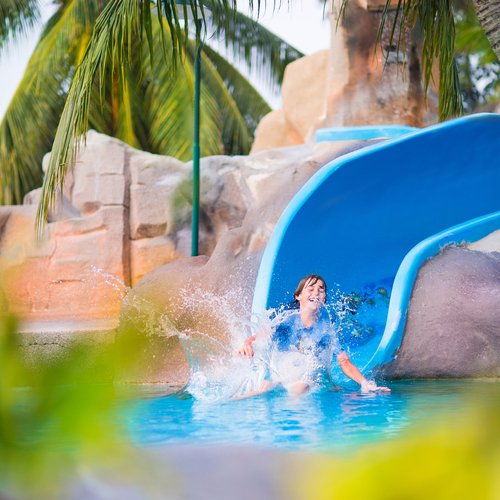 6. Sheer Water Walls
Traditional waterfalls will always be a key piece in many custom pools, but more modern pools will be better complimented with sheer water walls.  These water walls send sheets of water cascading into the pool rather than bubbling and tumbling as a typical waterfall does.