5 Pool Design & Outdoor Living Ideas to Modernize Your Backyard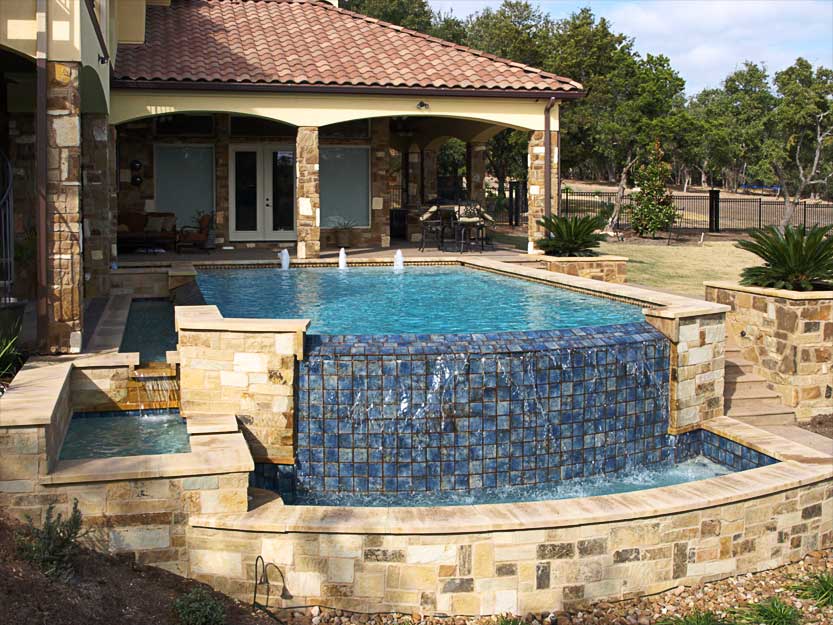 Think your pool and
outdoor living
area may need a bit of a makeover? These 5
resort-quality pool ideas
are sure to turn even the drabbest backyard into a beautiful aquatic retreat, starting with the infinity pool.
1. Infinity Pool
Luxurious and attractive, the infinity pool is associated with the most exotic resort locales and exclusive estates – and it can be incorporated into your backyard! Regardless of the view, an infinity pool creates an entrancing visual effect, producing a glass-like surface while giving the impression that your pool waters extending far into infinity.
2. Swim-Up Bars and Sunken Patios
Many modern pools are built with this design option because it's incredibly accommodating to all guests. Swimmers and pool loungers can splash right up to the bar to enjoy a cool and refreshing beverage while also partaking in a conversation with those on the patio.
3. Caves and Rocky Grottos
Rocky grottos are almost always a part of great pool ideas, but modern pools now also include caves. When coupled with a cascading waterfall, you've created a shaded and relaxing spot that will calm your senses while giving you and your guests much needed relief from the hot sun.
4. Outdoor Kitchen
Constantly running from your indoor kitchen to the pool and patio area isn't only inconvenient, but it can also keep you from sitting down and enjoy the company of your friends and family! Outdoor kitchens can be as simple or complex as necessary, from being a standard barbeque with an extra counter for food preparation and serving, to being outfitted with stoves, refrigerators, a sink and even a television.
5. Waterslides
Today's waterslide options are able to deliver waterpark-quality fun for all backyards. Look for free-flowing waterslides, add waterfalls that completely drench sliders or throw in some extra curves and drops to amp up the excitement.
ABOUT THE COMPANY
Texas Pools & Patios is an
award-winning Austin and San Antonio pool builder
serving Austin, San Antonio, Central Texas and the surrounding areas. We specialize in
custom designed in ground pools
,
pool renovation
,
outdoor living construction
, pool repair, maintenance and service.
As a family-owned and operated business, we pride ourselves on our
quality construction
, cutting-edge designs,
industry certifications
and awards, and building lasting customer relationships.
To learn more about our pool design and construction projects,
visit our website
subscribe to our blog
,
like us on Facebook
,
view our latest projects on Houzz
or
visit our YouTube channel
.