5 Outdoor Living Trends for 2015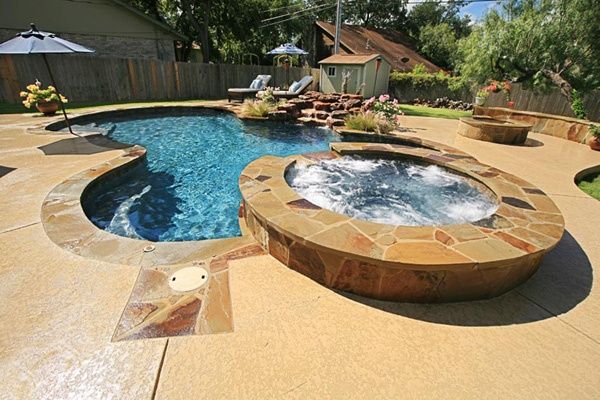 The year may have just begun a short while ago, but we at Texas Pools and Patios have already seen a few emerging outdoor living trends for 2015.
1. Outdoor "Rooms"
As the American home continues to decrease in size, homeowners are looking stretch the boundaries of their abode and are coming up with pool patio designs that include the construction of an outdoor room.  While many resemble a living room, having plush chaise lounges, soft chairs, fireplaces and television sets, some creative individuals have even created outdoor bedrooms.
2. Xeriscaping
In an effort to conserve water and "go green", an increasing number of homeowners are creating outdoor pool living areas that include "xeriscaping".  This type of landscaping increases water conservation by including fewer grassy areas, clever plant placement and the use of native plants. This look also goes well with the rocky landscape of the Texas hill country.
3. LED Lights
LED lights are both energy efficient and increase the safety of a backyard with pool, but what is really drawing homeowners to these lights are the wide range of options they have to choose from.  Choose from a rainbow of colors and choose different styles of lights, from string lighting to flood lights and in pool lights. When you add fun lights to your backyard you're increasing the time you get to enjoy your patio and pool so why wouldn't you get awesome lights?
4. Contemporary Water Features
As the demand for more sleek and modern pools rises, so does the demand for contemporary water features.  Expect to see a growing number of unique  and even one of a kind fountains and waterfalls be built into outdoor pool living areas in the spring. With a custom pool you can also customize your features, start thinking about what you would like your features to look like. 
5. Knife-Edge Pools
This exquisite style of pool is the perfect addition to any outdoor living space.  Also known as a perimeter edge, the water of this pool flows over on all sides as opposed to only one side, creating a smooth, mirror-like pool surface that reflects the beauty of all that surrounds it.
If you are ready for one of these awesome features in your backyard contact us today!