3 Most Important Aspects in a Pool Design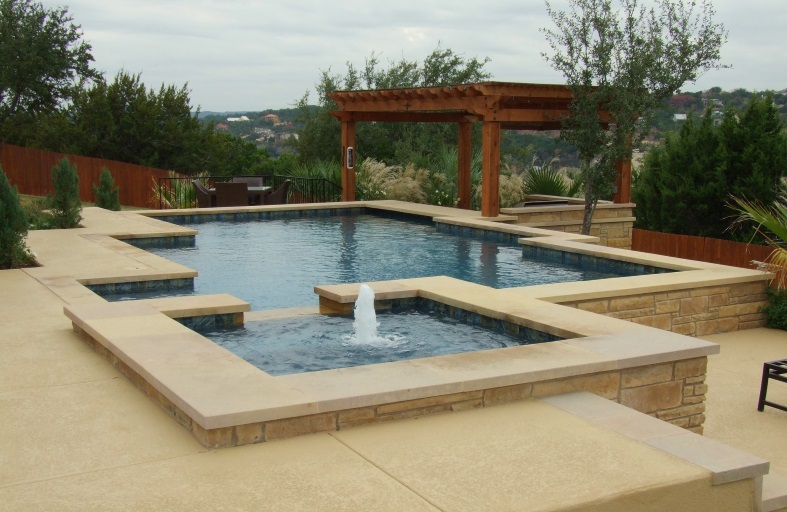 Austin & San Antonio Pool Design Elements
Having a gorgeous pool that you can't help but look out at is important, but it's not the only aspect that pool lovers need to take into consideration when designing their swimming pool. The first item that you need to consider is:
Pool Usage
First, how will you and your family likely use your pool? If you envision lots of water volleyball, basketball and Marco Polo games, a "play pool" with depths less than five feet may be best for you. For lap swimmers, a rectangular shape with long, straight stretches could be most useful. Families with small children may benefit from incorporating a wide tanning ledge for shallow play that also does double duty as a lounge place for mom to catch some sun! Plan to do a lot of entertaining around the pool? Consider a raised spa or raised accent walls that offer convenient extra seating areas for guests.
Low Maintenance
Some pool owners may love spending countless hours every weekend cleaning and maintaining their pool, but most of us would like to keep the maintenance to a minimum and spend the rest of that time enjoying being in and relaxing around the pool. You can save yourself time by:
Installing a sanitizing system (what each offers may vary, so make sure you choose the right system for your lifestyle and pool)
Using an automatic pool cleaner
Making use of automatic control systems that control the pool temperature, filtration, and more
Alternatively, you can always hire Texas Pools & Patios to stop by on a regular schedule to
maintain your pool
for you.
Cost
When we dream, we dream big – sometimes bigger than our budget allows. But all because one finish may cost more than you're able to afford, a
good pool designer
may be able to offer you alternatives that will give you the look that you want at a price you're able to afford.
ABOUT THE COMPANY
Texas Pools & Patios is an award-winning Austin and San Antonio pool builder serving Austin, San Antonio, Central Texas and the surrounding areas. We specialize in custom designed in ground pools, pool renovation, outdoor living construction, pool repair, maintenance and service.
As a family-owned and operated business, we pride ourselves on our quality construction, cutting-edge designs, industry certifications and awards, and building lasting customer relationships.
To learn more about our pool design and construction projects, visit our website subscribe to our blog, like us on Facebook,view our latest projects on Houzz or visit our YouTube channel.