10 Ways to Enjoy Your Outdoor Living Space Through the Winter Months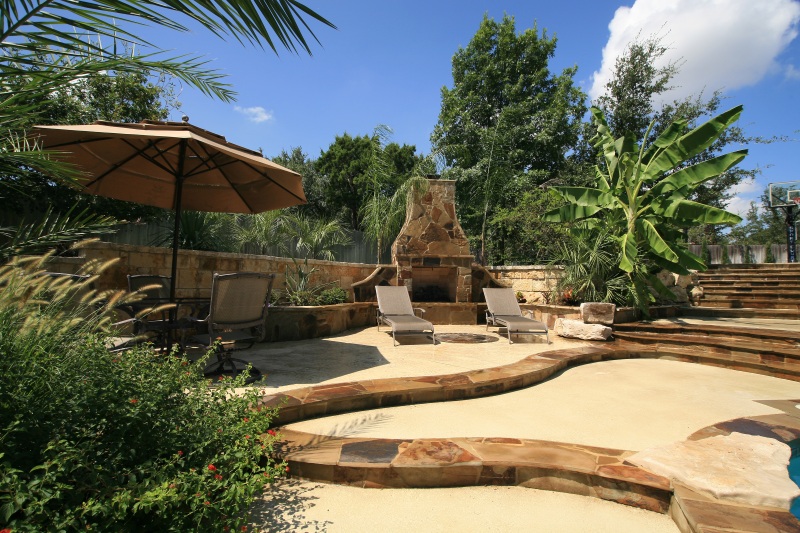 The weather may be getting colder, but that doesn't mean the good times on the patio and in the swimming pool need to come to an end. As one of top pool builders in Austin, we've compiled a list of 10 ways to keep your swimming pool and outdoor living space fun even during the fall and winter months:
1. Bring On the Heat
Adding a heat source is one sure way to create an inviting Austin and San Antonio outdoor space for yourselves and guests to enjoy. Choose from tabletop designs or full-sized patio and deck heaters to add both warmth and ambiance to your swimming pool and patio area.
Perhaps you could even add a
pool heater
to keep your water nice and warm no matter the weather. We carry energy-efficient swimming pool heaters that will provide unlimited fun without adding too much to your energy bill.
2. Swimming Pool Fire Features
A heat source may make the area warm, but swimming pool fire features are what will draw friends and family members outdoors. From simple firepits and ornate firebowls to stately outdoor fireplaces, homeowners can pick and choose the features they want to create the atmosphere they desire.
3. Dress Up Your Backyard
Adding a bit of wintry décor to your Austin or San Antonio backyard is a great way to add some flair to your swimming pool and patio area, even if you aren't outdoors. Choose a selection of staple winter items that continue to be in season even after the holidays come to an end, such as decorative wreaths and fern trees, and place them around your pool and patio.
4. Light Up the Texas Night
Lighting is a must if you want to create a welcoming space outdoors. Strings of white LED lights are an economical way to add some extra twinkle to your San Antonio or Austin backyard, though there are a number of other options including pathway lights, pot lights, and more. We can show you some amazing custom lighting options at our Austin or San Antonio swimming pool design center.
5. Change Your Swimming Pool Water Color
Darkness comes sooner during the Texas winter months, which can make the swimming pool and hot tub appear rather dark and dreary. If you change out your standard pool bulbs with some bright and festive color LED lights, it'll be hard for friends and family to resist taking a dip.
6. Cover the Patio
Not only are exposed patios during the Central Texas winter subject to increased wear and tear, but covering the patio or creating an enclosure will create a warmer breeze-free spot for everyone to lounge and enjoy.
7. Make it Cozy
Typical plastic patio chairs and loungers may suffice during the summer, but in the winter, when it's already difficult to beckon others outdoors, it's all the more important that you add plush outdoor pillows, throws, or even completely replace the outdoor furniture on your patio and around the swimming pool and hot tub area.
8. Add Entertainment
Some homeowners may choose to install a television outdoors, though for those of us who haven't, you can create your very own projection screen and watch shows and movies outdoors and under the stars. All you need is a projector, a white shower curtain, a wood frame and a staple gun and you're set!
9. Create a Coffee, Tea and Hot Chocolate Bar
If you already have an
outdoor kitchen
,
this will be simple to create. For those who don't, you can build your own and make it as basic (such as placing a hot plate with a kettle on a table outside) or complex as you wish to match your outdoor décor.
10. Throw a Party
What's the point of a beautiful outdoor space if you don't show it off and entertain friends and family! Come by today to browse all the options we have to help you create a breathtaking, fun, or casual outdoor living area.
As a top pool builder in Austin, we can do it all – swimming pools, outdoor kitchens, spas and custom hot tubs, and more that will make your backyard THE place to be this winter.
ABOUT THE COMPANY
Texas Pools & Patios is an
award-winning Austin and San Antonio pool builder
serving Austin, San Antonio, Central Texas and the surrounding areas. We specialize in
custom designed in ground pools
,
pool renovation
,
outdoor living construction
, pool repair, maintenance and service.
As a family-owned and operated business, we pride ourselves on our
quality construction
, cutting-edge designs,
industry certifications
and awards, and building lasting customer relationships.
To learn more about our pool design and construction projects,
visit our website
subscribe to our blog
,
like us on Facebook
,
view our latest projects on Houzz
or
visit our YouTube channel
.